Country Focus: State of play of China's green energy
China's carbon neutrality goals represent a pivotal point in its economic development agenda. Its push to use hydrogen energy is backed by major industry players, says Angelica Buan in this report.
China, the world's largest energy producer and consumer, is also a significant carbon emitter, accounting for one-third of global CO2 emissions. It contributes roughly half of total global production as the world's largest coal producer. Its reliance on non-renewable energy to generate electricity and power its industries impacted the country's air quality. As a result, shifting to clean energy sources to achieve carbon neutrality aligns with China's wider sustainability objectives.
The government has set targets to achieve peak carbon emissions before 2030 and carbon neutrality by 2060, as outlined in the 14th five-year plan, jointly released in March by the National Development and Reform Commission and the National Energy Administration for the periods 2021-2025. It also plans to source 20% of its total energy consumption from non-fossil fuels by 2025. While coal dominated the energy mix, accounting for 60% in 2020, its share has decreased.
In line with this, a hydrogen development strategy was developed. By 2025, China proposes to have a comprehensive hydrogen energy industry development mechanism in place. When fully implemented, the country expects to produce between 100,000 and 200,000 tonnes of hydrogen from renewable energy per year. This transition, which is expected to be expanded further by 2035, will result in significant carbon emission reductions ranging from 1 million to 2 million tonnes/ year.
Hydrogen's growing popularity can be attributed to the fact that it is a clean fuel. When used in a fuel cell, it only produces water. Natural gas, coal, nuclear power, biomass, and renewables such as solar and wind can all be used to produce hydrogen, which can be grey, blue, or green depending on the method of production. It has the potential to decarbonise industries that are difficult to reduce emissions, such as long-haul transportation, chemicals, and iron and steel.
By 2030, total hydrogen demand in the country is expected to increase by 20% to 31 tonnes, and triple to 90 tonnes by 2060. Given the rise of electric vehicles, the transportation sector may account for the lion's share of hydrogen in final energy use. While an increased use of hydrogen/hydrogen-derived fuels in road freight, shipping, and aviation is projected.
Blueprint for green hydrogen
Hydrogen must be produced from low-carbon energy sources in order to make a meaningful contribution to reducing carbon emissions. The only type of hydrogen that is produced in a climate-neutral manner is green hydrogen.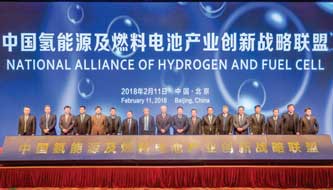 China, already the world's largest producer and consumer of hydrogen, accounts for 20% of global demand, according to S&P Global Commodity Insights. In 2020, 63.5% of China's hydrogen supply was generated through coal gasification, 21.2% through industrial processes such as refining, 13.8% via natural gas, and only 1.5 % through water electrolysis. China's hydrogen development strategy focuses on transitioning to green hydrogen based on renewables, which has a higher production cost than coal gasification-based hydrogen.
China Energy Corporation, along with 18 other sponsors from the energy production, equipment manufacturing, transportation, and metallurgical materials sectors, as well as prestigious universities and research institutes, launched the China Hydrogen Alliance (CHA) in 2018 to support the development of China's hydrogen sector, improve capabilities, and lower costs of green energy production in China to US$4/kg by 2025 and US$2.40/kg by 2030. It currently has 87 members worldwide.
Its functions include promoting national and state "hydrogen energy and dual cell applicational zones," as well as establishing national hydrogen energy and fuel cell equipment production and standardisation of application settings.
Paving the clean energy roadmap
Meanwhile, as China transitions to green energy, strategic collaboration among key industry players to boost China's hydrogen market is intensifying. Linde, a global industrial gases and engineering company that is a member of the Global Hydrogen Council and the CHA, and Baowu Clean Energy Ltd, a subsidiary of the Baowu Steel Group, one of the world's largest steel manufacturers, are working together to develop hydrogen infrastructure and solutions for mobility and other industrial applications.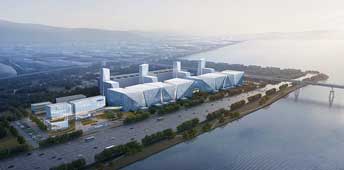 The collaboration, which was first announced in 2019, aims to improve hydrogen accessibility for industries, deploy hydrogen mobility solutions, augment China's hydrogen ecosystem - from production to storage and distribution - and invest in liquid hydrogen plants. two 9HA.01 heavy duty gas turbines to the Guangdong Huizhou power plant, which is operated by the state-owned Guangdong Energy Group Co, Ltd (GEG).
The project showcased the joint venture's first localised 9HA.01 production in mainland China. The joint venture, formed in 2019, focuses on heavy duty gas turbine (HDGT) localisation, with the goal of providing "efficient and dependable" support for China's natural and hydrogen-blended gas power plants. In addition, Harbin Electric will supply the Guangdong Huizhou power plant with a steam turbine, generator, and balance-of-plant equipment.
The gas turbines, which are designed to burn up to 10% by volume of hydrogen blended with natural gas when they begin operation, will be the first in China to do so. The project is expected to be completed in 2023, supplying 1.34 GW of power to Guangdong.
Hydrogen-blended natural gas-fired generators have the least CO2 emissions of any fossil power generation fuel—a 10% hydrogen-blended natural gas-fired combined cycle plant emits roughly 40% less CO2 than a comparable-sized coal plant, and emits less mercury, NOx, SOx, and particulate matter.
GEG has long relied on GE and Harbin Electric as suppliers. The latter chose two GE 9F gas turbines for the Xinhui Power Plant. Furthermore, GE is currently assisting the plant operator with the transition from coal to gas at its Dongguan Ningzhou power plant. GEG also selected three GE 9HA.02 gas turbines and a stream turbine, generator, and other auxiliary equipment from Harbin Electric for the Dongguan Ningzhou combined cycle power plant in Guangdong.
(PRA)
---
Subscribe to Get the Latest Updates from PRA Please click here
©2022 Plastics and Rubber Asia. All rights reserved.

©2022 Plastics and Rubber Asia. All rights reserved.
Home
Terms & Conditions
Privacy Policy
Webmail
Site Map
About Us
SOCIAL MEDIA