Green Tie-ups: Borealis/Sulzer to offer circular ePP; AmSty/Agilyx in jv for PS recycling facility in US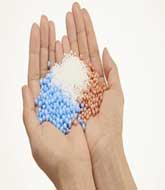 Swiss fluid engineering firm Sulzer Chemtechand materials firm Borealis have completed the development of a process for the cost-effective extrusion of expanded polypropylene (ePP) beads.
Polypropylene (PP) is a highly effective material, offering advanced mechanical properties and being well suited for reusing and recycling. To support the large-scale adoption of ePP, Sulzer Chemtech is now launching a new production line. Developed together with Austrian supplier Borealis, the resulting solution supports the end market efforts towards more circular solutions and is expected to cut manufacturing costs by up to 60%.
As opposed to conventional autoclave production methods, Sulzer Chemtech's system relies on extrusion with direct gas impregnation, offering an easy to implement alternative with a quick return on investment. Foam moulders, such as packaging manufacturers, can implement the compounding line to considerably reduce the costs associated with material supply, warehousing and intermediate transportation. As a result, companies can offer ePP parts at more competitive prices while supporting the adoption of easy to recycle polyolefin applications.
Additional benefits include having full control over the properties of the ePP, such as bulk density, closed cell content and bead size distribution, as well as maximum flexibility in fine-tuning the recipes. Also, the highly automatised process keeps maintenance requirements low and simplifies operations.
Besides, the extruded beads can be subsequently easily processed with standard steam pressure in steam chest moulding machines to obtain moulded bead foam products with specific shapes.
In addition, Sulzer Chemtech and Borealis are developing an alternative that can use carbon dioxide, supporting different customer needs and plant settings.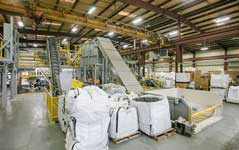 In other news, AmSty, the largest polystyrene (PS) producer in the Americas, and recycler Agilyx Corporation, a wholly owned subsidiary of Agilyx AS, are to explore the development of a jointly owned advanced recycling facility.
The initial scope of this project will be a 50 to 100 tonnes/day advanced recycling facility located at AmSty's Styrene production facility in St. James, Louisiana. The facility will be a next generation expansion of Agilyx advanced recycling technology already in use at the parties' Regenyx joint venture operating in Tigard, Oregon, where post-use PS products are converted back into virgin-equivalent styrene monomer. A feasibility study for the project is under way, with a timeline for construction and commissioning to be announced as progress continues.
Feedstock for this collaboration would be accessed via Cyclyx, Agilyx's feedstock management company. AmSty is a founding member of the Cyclyx consortium. The Cyclyx platform encompasses an integrated set of innovations including chemical characterization of plastics, predictive modelling of feed sources to product pathways, custom feedstock recipes, and customized supply chains to deliver waste plastic feedstocks appropriate for recycling pathways.
"Polystyrene is an ideal material for the future of recycling," said Dr. Randy Pogue, President/CEO of AmSty. "Not only can polystyrene products offer sustainability advantages where less material is required (e.g., a polystyrene foam cup is 95% air), but polystyrene is particularly advantageous for advanced recycling because it can be "unzipped" back to its original liquid form, styrene monomer, using 40% less energy than other polymers. As the global plastics industry moves toward circular recycling to build value and grow access, polystyrene becomes very attractive as a first mover with its inherent conversion advantages. AmSty is committed to keeping polystyrene products out of landfills through circular recycling. We are excited to expand our relationship with Agilyx in this new project to accelerate progress."
"Development of this technology has picked up over the past decade, and it is time to reach a larger scale," said Tim Stedman, CEO of Agilyx. "We have been operating Regenyx with AmSty since 2019 and are pleased to expand our relationship toward a much larger facility at St. James. Joining AmSty as a co-investor underlines our commitment to accelerating the implementation of Agilyx advanced recycling technology and our licensing model. We believe that our technology will significantly increase the availability of recycled content for producers."
(PRA)
---
Subscribe to Get the Latest Updates from PRA Please click here
©2021 Plastics and Rubber Asia. All rights reserved.

©2020 Plastics and Rubber Asia. All rights reserved.
Home
Terms & Conditions
Privacy Policy
Webmail
Site Map
About Us
SOCIAL MEDIA