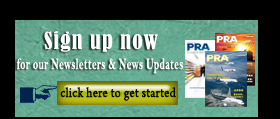 Asia: a focus of Davis-Standard
Also, download this story from the electronic issue here
Davis-Standard, a global leader in technologically-advanced extrusion solutions, is experienced in the Asian region's manufacturing aptitude, as well as its market might. The Pawcatuckheadquartered plastic and rubber extrusion and converting systems specialist considers the region its bulwark, accounting for 30% of its business. To delve deeper into Davis-Standard's new technology offerings and market breakthroughs, PRA interviewed Davis-Standard President/CEO, Jim Murphy, and Vice-President Business Development, Asia, Sekaran Murugaiah.
The spotlight is on the manufacturing sector in the Asia Pacific (APAC) region. A global manufacturing shift from the West to the East is resulting in a contraction of the sector in most advanced economies. Meanwhile, expansions in APAC are being led by the manufacturing meccas of India and China, according to a sector report from Chartered Institute of Management Accountants (CIMA).
Echoing this is the 2018 Southeast Asia economic outlook report by the OECD (Organisation for Economic Cooperation and Development) that says India and China are witnessing variable growths. China's growth rate has slowed while India's has remained upbeat. However, Caixin/Markit's manufacturing purchasing managers' index says that "the durability of the Chinese economy will persist this year".
The second largest economy in the world is also shedding its old skin of run-of-the-mill products. The Chinese government is not only cracking down on heavily polluting industries but also engineering a transition toward a services and consumption-led economy, which should bode well for the manufacturing sector.
Meanwhile, the Asian region's impetus is to move up the value chain and be on par with the manufacturing capabilities of developed regions. In this aspect, the plastics and rubber industries are major adopters of new technologies. Asia, which in 2016 accounted for 40% of the plastics and rubber products manufacturing (followed by the US and Europe at 30% and 23%, respectively), hedged on brisk demand from the two most populous countries' over-sized food and beverage markets, as well as retail and automotive industries.
Thus, Davis-Standard is in an opportunistic position with its facility and parts centre in Suzhou, China, and regional office in Malaysia, plus its offering of a comprehensive range of extrusion machinery, and converting systems and technology, as well as a full range of extrusion aftermarket services that fit the requirement of its Asian as well as global customers.
Technology is a growth driver in the region's manufacturing sector. Being highly focused to achieving new growth, more manufacturers are adopting quality and more efficient equipment to clinch higher targets. Likewise, lean manufacturing techniques are now being widely adopted in reference to sustainable, energy and cost-efficient processes.
Thus, Davis-Standard's forte in medical tubing equipment capabilities, to cater to future innovations, will also meet the burgeoning demand for consumable medical devices and is expected to open up more opportunities for the company.
We learn more on the US company's focus for Chinaplas 2018 and for Asia this year in this interview with Jim Murphy and Sekaran Murugaiah.
PRA:
What is the focus of Davis-Standard at the Chinaplas show this year?
Davis-Standard will be in Hall 8.1, Booth D19 where we will be focused on promoting the addition of Maillefer, the growth of our Suzhou facility, and equipment for Asia's growing medical and packaging markets.
We will display the MEDD (Medical Extruder Direct Drive), which is Davis-Standard's signature extruder for medical tubing with direct drive technology for more energy efficient operations. In addition to the direct drive advantages, the MEDD provides processors greater materials flexibility with a replaceable feed section liner, interchangeable barrel assembly and a Windows PLC control system.
PRA:
How has the Maillefer acquisition expanded Davis-Standard's capabilities since 2017?
The Maillefer acquisition has greatly expanded our wire and cable, pipe and tube equipment line on a global level, and complements the FPVC medical tubing and co-extrusion applications supported at our Suzhou location. It has also added facilities in Finland and Switzerland, enabling us to better service customers in Europe, the Middle East and Asia.
PRA:
Which Asian market segments have been illustrious for Davis-Standard?
We continue to place a heavy focus on the medical tubing and packaging segments in Asia. Both of these markets are strong for us and continue to develop and grow throughout Asia.
PRA:
With regards to Davis-Standard's Suzhou facility, what are its current capabilities and will it be expanded to add on further offerings?
Suzhou is our manufacturing base in China and we have continued to add capabilities there. We currently build equipment for medical tubing and co-extrusion applications and assemble electrical control panels, extruders and gearcases.
We also have an impressive R&D facility at Suzhou, equipped with technology for testing a range of rigid and flexible products, as well as FPVC tubing for IV and fluid delivery. Examples of applications include microbore tubing, multi-lumen and catheter tubing, endotracheal and tracheotomy tubing, bubble tubing, taper tubing and many others.
By the third quarter of 2018, we plan to add a new dsX flex-pack™ 300S to this laboratory for customer trials. This is a single-station extrusion and lamination line built specifically for the Asian flexible packaging market.
PRA:
In terms of the medical tubing market, how has Davis-Standard fared in the Asian market specifically. Please provide an example of a recent installation in Asia.
We are faring well and have become one of the top equipment suppliers in the region. We are serving customers that demand world-class production capabilities, and this market is growing rapidly to support the medical devices demand in Asia.
One of the most exciting installations we've had recently is a project with the Korea Institute of Industrial Technology (KITECH). KITECH is a government-funded institute committed to growing South Korea's manufacturing industry through development, application and commercialisation of technologies, and support of small and mediumsized enterprises.
KITECH installed one of our medical tubing systems at its Biomedical Technology Centre. It is currently using the line to develop catheters used in cardiovascular, endoscopic and epidural applications, and collaborating with several South Korean companies on proprietary R&D projects.
KITECH is impressed with the feedscrew efficiency, die design and operation of the system, allowing for multi-lumen tubing with up to four lumens.
KITECH is also leading the charge on medical tubing innovation in South Korea and the institution selected our technology to do it; that's a valuable endorsement for Davis-Standard.
PRA:
What are the latest developments in Davis- Standard's dsX line of equipment? How will the technology benefit Asian processors/converters?
The latest is the dsX flex-pack™ 300S, which has been engineered specifically for the Asian flexible packaging market. This single station extrusion and lamination line is an impressive collaboration between Davis- Standard's teams in the US, Germany and China. It accommodates the pricing, machine footprint, speeds and output, and shorter runs demanded by converters.
We also plan to offer a tandem configuration of this line called the dsX flex-pack™ 300T.
As mentioned above, we plan to have a dsX flex-pack™ 300S line available for demonstrations in Suzhou by the end of the third quarter this year.
PRA:
Davis-Standard recently introduced the next generation DS-eTPC control as well as the new ironing roll winder; how will these benefit Asian processors?
The DS-eTPC II gives Asian processors added flexibility to support a broader range of applications, going beyond basic touch-screen capabilities, at an attractive price point. It has a larger 380-mm viewing screen with multi-touch capabilities to enable zoom-in and out, as well as extruder control for up to three extruders with real-time and historical data trending. Other benefits include an increase of heat-only zones from four to eight, with an option up to 20; two auxiliary drives; a remote set-point; and speed trim via discrete inputs from gauging equipment.
One of the GREATEST benefits of this controller is the additional extruder control from one main HMI. Processors can control up to three extruders with the option for local control of co-extruders while maintaining line control from the primary HMI.
The ironing roll winder supports markets for larger diameter master rolls up to 1.2 m in diameter on cast film lines up to 6 m wide. This winder can be used for many film types, but is most beneficial for CPP and barrier films where post-wrap shrinkage occurs as a result of the types of polymers used in the film structures, or where blocking can occur due to a soft sealant layer with a high coefficient of friction (COF).
For Asian processors, this means they can improve product quality and profitability by producing larger diameter rolls while eliminating in-wound defects such as buckling, telescoping and starring. The dynamics and control features of this new system truly modernise this process.
PRA:
What developments in Asia are favourable for Davis-Standard?
Asian markets continue to develop quickly and are demanding higher quality products in many categories across the region. Davis-Standard's worldclass technology is attractive to many customers as it provides the ability to increase the quality and output of their production. Our extensive knowledge of the global market in addition to competitive lead times, quality equipment, technical service and price offering, enable us to better accommodate customers throughout the region.
PRA:
What % growth has Davis-Standard seen in the Asian market, compared to the previous year?
Davis-Standard saw significant growth in 2017 in the Indian and Korean markets. In fact, we witnessed 76% growth in 2017 over prior years in both the markets.
Visit Davis-Standard at Chinaplas 2018 at Hall 8.1, Booth D19
(PRA)
---
Subscribe to Get the Latest Updates from PRA Please click here
Copyright (c) 2018 www.plasticsandrubberasia.com. All rights reserved.