Recycling: SDK to process waste & promote chemical recycling; Ineos tie-up with Saica for PCR in flexible packaging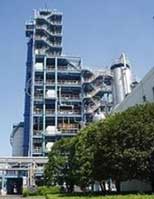 Japan's Showa Denko (SDK) has obtained a license to process industrial waste, and started to accept used plastics which were crushed and moulded.
Since 2003, SDK's Kawasaki Plant, which is located in Kawasaki City, Kanagawa Prefecture, has been operating chemical recycling, a business to recycle used plastics as raw materials for chemicals under the provisions of Containers and Packaging Recycling Law. SDK calls this business Kawasaki Plastic Recycling (KPR).
It gasifies used plastics under high temperature, and decomposes them to the level of molecules. The gasified plastics are converted into hydrogen (low-carbon hydrogen) and carbon dioxide (CO2). The low-carbon hydrogen is used as raw material to produce ammonia, and CO2 as raw material to produce dry ice and carbonated drinks.
SDK says it is the only company in the world that has track record of long-term commercial operation of plastic chemical recycling through gasification.
Now, SDK has obtained a license to process industrial waste as a response to the increase in environmental needs. In addition, this license enables SDK to diversify sources of used plastics. Thus, SDK says it has established a used-plastics procurement system that supports stable operation of KPR.
Among 9 million tonnes/year of used plastics are discharged in Japan, 7.5 million tonnes are reused (390,000 tonnes are reused through chemical recycling, 2 million tonnes are reused through material recycling, and 5 million tonnes are reused through thermal recycling), and 1.42 million tonnes are not reused but incinerated or landfilled.
Chemical recycling of plastics converts used plastics into raw materials and enables society to reuse them. Therefore, chemical recycling of used plastics attracts people's attention as one of key technologies that help people realise a recycling oriented society.
Kawasaki City is recognised as an Eco-town by the Ministry of Economy, Trade and Industry. In July 2015, SDK and Kawasaki City concluded an agreement to cooperatively promote low-carbon hydrogen use. SDK has been conducting demonstration experiments where it supplies low-carbon hydrogen to fuel cells installed in a hotel located in Kawasaki City and a hydrogen station for fuel-cell vehicles.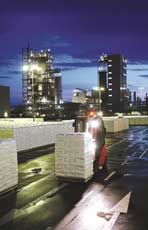 Meanwhile in other news, Ineos Olefins & Polymers has partnered with waste management company Saica Natur in a supply agreement for, recycled LDPE and LLDPE. Ineos says the long-term agreement will help it to serve the growing demand for increased levels of recycled product in sustainable, virgin quality flexible packaging.
Through this partnership, Ineos has been able to develop high-performance polyethylene Recycl-IN resins to meet the needs of converters, brand owners and retailers, to use more than 60% recycled plastics in applications such as stretch and lamination films typically used in flexible pouches for detergent and personal care products.
This new addition to the Recycl-IN range is for use in flexible packaging and pushes technical boundaries by incorporating more than 60% post-consumer recyclate (PCR). Recycl-IN combines the recycled plastic with highly engineered virgin polymers. The result has properties equivalent to virgin materials, whilst meeting the demand for an increase in the use of recycled materials.
Ineos first launched the Recycl-IN range of polymers in 2019 to address consumer needs for high recycled content resins which match the performance of virgin resins in terms of quality and processability.
Rob Ingram, CEO INEOS Olefins & Polymers North Europe: "Saica are experts in recycling post-consumer plastic film. Ineos has the polymer science expertise to improve the quality, specification, and performance of the finished product."
Victor Sanz, Director General of Saica Natur: "With this agreement, we are moving towards a circular economy model through the use of resources in a more sustainable and efficient way. Waste is transformed into a secondary raw material that will be then incorporated into new high quality products. This is an example of commitment towards achieving a long-term sustainable growth."
(PRA)
---
Subscribe to Get the Latest Updates from PRA Please click here
©2020 Plastics and Rubber Asia. All rights reserved.
©2020 Plastics and Rubber Asia. All rights reserved.
Home
Terms & Conditions
Privacy Policy
Webmail
Site Map
About Us
SOCIAL MEDIA