Recycling: MOL/Meraxis cooperate on recycled plastics; Mitsui Chemicals ties up with Nagaoka University to propel recycling
Swiss trading group Meraxis and integrated Central and Eastern European oil, gas and petrochemical company MOL Group are entering into a strategic partnership to forge ahead with the development and production of polyolefin re-compounds in the future. The aim is to develop and produce high-quality recycle-based compounds and then distribute them worldwide.
Meraxis will supply MOL Group with post-consumer recycled materials going forward to be blended with MOL virgin polyolefin resins. Using the combined compounding knowledge of Meraxis and MOL Group, a new product portfolio will be developed and firstly it is planned to be produced at Aurora Kunststoffe GmbH, a member of MOL Group in Germany.
Distribution will be the responsibility of both partners in the future with the entire product value chain from sourcing, compounding and sales to technical service to be provided by the partners. Managing directors of both companies signed a joint letter of intent on the cooperation.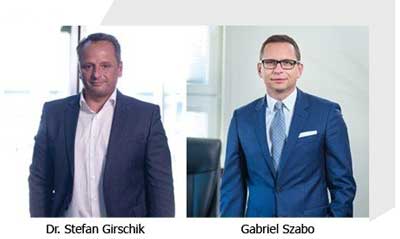 "MOL Group is a key strategic partner for us. As one of the leading polymer manufacturers in Europe, MOL Group has been committed to a closed-loop circular economy for years now," said Dr. Stefan Girschik, CEO of the Meraxis Group.
"Compounding is an important avenue for the transformational journey to become a leading chemical player in the Central and Eastern European region. As regulations and customer preferences are continuously changing, MOL Group has identified the importance of using recycled material, no matter the industry," emphasised Gabriel Szabó, MOL Group's Executive Vice President of Downstream.
As one of the leading European polymer manufacturers, MOL Group has been expanding its petrochemical business for years now. MOL Group entered compounding with the acquisition of Aurora Kunststoffe in November 2019 and is continuing its "Enter Tomorrow 2030" strategy aiming to transition from a traditional fuel-based business model in its Downstream division to higher value-added petrochemical product portfolio. The company is aiming to establish itself as the market leader for recycling and compounding in Central and Eastern Europe.
Meraxis has been on the market for more than one year following the merger of the two global Swiss companies MB Barter & Trading and Rehau GmbH, the latter being responsible among others for global production material supply for the Rehau Group. The company has been expanding its portfolio of prime and recycled materials on an ongoing basis ever since. In order to achieve this, the distributor works with numerous partners and suppliers to offer re-granulates and re-compounds in the desired quality and quantity to companies across the globe via a one-stop shop.

In related news, Japan's Mitsui Chemicals has launched a joint research project in pursuit of technology to promote the recycling of plastic waste, working with Nagaoka University's Professor Takahashi Tsutomu, Department of Mechanical Engineering, Graduate School of Engineering, of Technology, National University Corporation.
With this new joint development project, Mitsui Chemicals aims over the course of the next three years to develop technology that will facilitate in-line measurement and control for the melted plastic's fluidity, which will in turn help to stabilise the quality of the regenerated plastic.
Further, in March 2019, Mitsui Chemicals opened the Design & Solution Centre in Niigata Prefecture. By accessing the product development capabilities of domestic affiliate Kyowa Industrial Co. – a manufacturer of injection moulds – and using these to offer solutions, the aim here is to continually create social value.
Nagaoka University of Technology, meanwhile, was designated in 2018 as the world's Academic Impact hub for Goal 9 – Industry, Innovation and Infrastructure – of the UN's Sustainable Development Goals (SDGs).
Hub universities are tasked with leading the way in SDG-related initiatives, with only one university around the world being selected for each goal. An early mover for bringing about a more sustainable world, Nagaoka University of Technology is regarded by the UN as a model university for its innovative SDG-related efforts, and is the only East Asian university to be selected as a hub for any of the goals.
(PRA)
---
Subscribe to Get the Latest Updates from PRA Please click here
©2020 Plastics and Rubber Asia. All rights reserved.
©2020 Plastics and Rubber Asia. All rights reserved.
Home
Terms & Conditions
Privacy Policy
Webmail
Site Map
About Us
SOCIAL MEDIA