Recycling: Axens, IFPEN and JEPLAN team up for recycling waste PET; LyondellBasell starts up pilot molecular recycling facility in Italy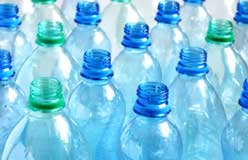 Clean technology solutions firm Axens, French research institute IFPEN and Japanese recycler JEPLAN are teaming up to develop and commercialise a PET monomer recycling process for all types of waste PET-based materials, including bottles, films, trays or textile (polyester).
This new process, called Rewind PET is involving an optimised glycolysis-based PET depolymerisation combined with specific purification steps aimed at removing all organic and inorganic compounds present in waste PET. The product is a purified BHET (Bis(2-HydroxyEthyl) Terephthalate) monomer, ready to be used in a PET plant and produce again any type of PET, from fibres to food grade resins.
The partners can demonstrate a strong track-record in the field: JEPLAN has operated the first ever industrial PET bottles chemical recycling plant, called Pet Refine Technology (PRT: 22 kilotonnes/year), in Japan. In 2018 JEPLAN also started-up a 2 kilotonnes/year demonstration plant, called Kitakyushu Hibikinada Plant (KHP) in Japan, aiming at textile to textile recycling. While in the past six years, IFPEN and Axens have developed a process able to recycle and upgrade coloured and opaque PET bottles into clear food grade PET.
Now, JEPLAN, Axens and IFPEN are putting together their operating, engineering and technological background and will leverage the 2 kilotonnes/year demonstration plant of JEPLAN in order to accelerate the development and demonstration of their joint flexible process. With the support of the work at IFPEN facilities in France and the demonstration unit, the partners target to be ready for the worldwide licensing by Axens of the Rewind PET process within the end of 2022.
In the meantime, the three partners say they will continue to closely work with the PET packaging and textile industries to validate the quality of the recycled PET, ensuring that the full process and logistics chain are safe, robust and economically viable, and set up the first industrial projects.
Jean Sentenac, CEO of Axens, is convinced that "this flexible, high-performance process will answer the PET packaging and textile industries needs to reach their ambitious recycling targets at the 2025-2030 horizon. Beyond licensing, Axens will propose to Rewind PET customers a global offer, from the delivery of turn-key modular units to a full support for the operation of this new process.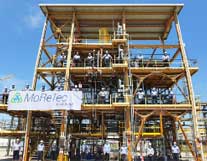 Meanwhile, in related news, chemical firm LyondellBasell has started-up its MoReTec molecular recycling facility at its Ferrara, Italy, site. LyondellBasell's proprietary MoReTec advanced recycling technology aims to return post-consumer plastic waste to its molecular form for use as a feedstock for new plastic materials.
The new plastic materials created by LyondellBasell's MoReTec technology can be used in food packaging and healthcare items, which must meet strict regulatory requirements.
The pilot plant is capable of processing between 5 and 10 kg/hour of household plastic waste. It aims to understand the interaction of various waste types in the molecular recycling process, test the various catalysts, and confirm the process temperature and time needed to decompose the plastic waste into molecules. The goal is to have this completed over the next couple of years and then plan for an industrial scale unit.
In July 2018, it announced a collaborative effort with Germany's Karlsruhe Institute of Technology (KIT) to advance its molecular recycling efforts. This collaboration proved the efficiency of the MoReTec technology at laboratory scale and, in October 2019 the company announced the construction of the Ferrara pilot plant. Today, the company's R&D teams in Germany, Italy and US are actively working to explore potential commercial-scale applications.
The development of MoReTec technology is part of LyondellBasell's commitment to plastics-to-plastics conversion. The technology development compliments the company's other circular solutions, which help reduce plastic waste and advance the circular economy, including:
Developing new business models for mechanical recycling: In March 2018, LyondellBasell took 50% ownership of Quality Circular Polymers (QCP), a joint-venture with Suez. QCP uses a mechanical recycling process to produce premium plastic pellets from packaging waste for use in applications ranging from electrical appliances, washing detergent bottles and suitcases. The materials, marketed by LyondellBasell, can currently be found for example in Samsonite's S'Cure ECO luggage collection.


Use of renewable feedstocks for plastics production: In April 2019, LyondellBasell produced plastics using renewable raw materials such as cooking and vegetable oil waste, for use in food packaging, toys, and furniture. These products, marketed under the Circulen and Circulen plus brands, meet all regulatory requirements for purity and offer the same high-quality properties as virgin plastics.


(PRA)
---
Subscribe to Get the Latest Updates from PRA Please click here
©2020 Plastics and Rubber Asia. All rights reserved.
©2020 Plastics and Rubber Asia. All rights reserved.
Home
Terms & Conditions
Privacy Policy
Webmail
Site Map
About Us
SOCIAL MEDIA