Recycling: Alpla's HDPE recycling plant in Mexico; Ineos Styrolution/AmSty's PS recycling facility in US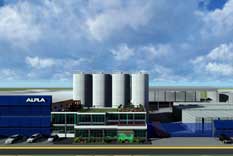 Packaging firm Alpla Group is planning to build a EUR15 million plant in Mexico for recycling HDPE. It is planned to produce 15,000 tonnes/year of post-consumer recycled material.
The family-owned enterprise from Austria has acquired a property in Toluca, capital city of the State of México in the country's centre. Construction of the recycling plant will commence on it in autumn 2020, with its launch planned for the second half of 2021. The company will be run as a 100% subsidiary of Alpla and the HDPE recycled material will be for non-food applications, for example for packaging solutions for personal care or household cleaning products. The target markets are primarily Mexico, neighbouring countries in Central America and the US.
Alpla says it possesses many years of experience in recycling post-consumer PET in Mexico. The first bottle-to-bottle recycling plant in Latin America commenced operation back in 2005 with Industria Mexicana de Reciclaje (IMER). IMER is a joint venture between Alpla México, Coca-Cola México and Coca-Cola Femsa. By joining forces, the partners have established the infrastructure for collecting and recycling used PET beverage bottles over the last 15 years. They produce almost 15,000 tonnes/year of food-grade recycled material from post-consumer PET Alpla says it is seeking to utilise this network and vast experience in its development of HDPE recycling within the region.
It also announced its acquisition of two recycling plants in Spain in November 2019, taking its first step in the field of HDPE recycling.
Meanwhile in other news, Ineos Styrolution and AmSty, two of the largest global producers of polystyrene (PS), announced plans to construct a joint 100-tonne/day facility in Channahon, Illinois, that will utilise chemical recycler Agilyx's recycling technology to recycle post-use PS products back into virgin-equivalent styrene monomer. Engineering design for the Channahon facility is under way, with construction and commissioning as the expected next phases.
Recently, AmSty, Ineos Styrolution and Trinseo also signed an agreement to jointly explore recycling options for PS.
In 2018, AmSty and Agilyx formed their Regenyx joint venture to advance the development of a similar facility in Tigard, Oregon, using Agilyx's breakthrough pyrolysis technology. The Channahon facility will be engineered on a larger-scale in cooperation with Agilyx to represent the next generation of advanced recycling technology.
"Discarded single-use items like polystyrene foam cups and yogurt cups can now go right back to the same applications over and over at the same purity and performance with no need to landfill," said Greg Fordyce, President Americas for Ineos Styrolution. "We are excited to join forces with AmSty on this ambitious project, which we expect will elevate polystyrene as a sustainable material of choice. In particular, this facility will dramatically increase recycling rates in the greater Chicago area."
Agilyx will also source and supply plastic waste feedstock for the facility through its recently formed Cyclyx subsidiary. "In addition to the technology, we have developed a feedstock management system, which is just as important as the technology in developing the supply chain for this new market," said Joe Vaillancourt, Cyclyx's President. "The overarching goal of Cyclyx is to dramatically increase the recyclability of post-use plastics with a priority for fully circular pathways, as well as assisting in the development of new supply chains that will aggregate and preprocess larger volumes of post-use plastics than current systems."
(PRA)
---
Subscribe to Get the Latest Updates from PRA Please click here
©2020 Plastics and Rubber Asia. All rights reserved.
©2020 Plastics and Rubber Asia. All rights reserved.
Home
Terms & Conditions
Privacy Policy
Webmail
Site Map
About Us
SOCIAL MEDIA