PLA Expansions: NatureWorks expands in US; Thyssenkrupp's 2nd plant in China; Total Corbion's first in Europe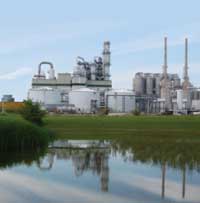 Biomaterials maker NatureWorks, a private company jointly owned by Cargill, a privately-held agricultural products corporation, and PTT Global Chemical, Thailand's largest chemical producer, has a slate of manufacturing technology projects, including lactide monomer purification efficiency that will increase the availability of the full Ingeo (PLA) biomaterials portfolio by 10%. Installation is currently underway at NatureWorks' facility in Blair, Nebraska, the world's first and largest commercial-scale PLA manufacturing plant with a capacity of 150,000 tonnes/year. The projects will be completed by the end of 2021.
The expanded availability will support growth in markets such as 3D printing and nonwoven hygiene masks as well as compostable coffee capsules, teabags, and coated-paper food serviceware. Rich Altice, President/CEO of NatureWorks also says, "The market continues to rapidly evolve due to the Covid-19 pandemic as well as the undiminished demand for sustainable, bio-based alternatives to petrochemical-based plastics." He adds that the firm is continuing "to pursue a potential future second manufacturing site outside the US" to serve its growing international markets.
Ingeo PLA is made in a multi-step process that begins with using annually renewable plants to turn greenhouse gases like carbon dioxide into long-chain sugar molecules. Dextrose, derived from the plant sugar molecules, is fermented into lactic acid that then undergoes a proprietary two-step process to transform it into lactide, the monomer for Ingeo PLA polymer.
As part of NatureWorks' participation in the New Plastics Economy Global Commitment and commitment to sustainable agriculture, it announced a new initiative in 2019 to ensure that by 2020 100% of the agricultural feedstock used for Ingeo made at the Blair production site will be certified as environmentally and socially sustainable by the International Sustainability & Carbon Certification System (ISCC). By 2025, NatureWorks also committed that 100% of new feedstocks for additional manufacturing capacity will be certified as sustainably and responsibly managed via an independent third-party administered programme.
NatureWorks was the first biopolymer manufacturer to become certified to the new ISCC PLUS standard in 2012, and currently has more than 60% of its agricultural feedstock certified.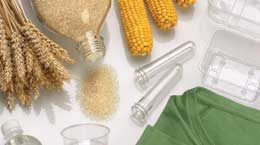 Elsewhere, German plant engineering firm Thyssenkrupp has won another order to build a bioplastics plant based on its patented PLAneo technology. It will be built in South China and will produce 30,000 tonnes/year of PLA.
The company built the first commercial plant based on PLAneo technology for China's biggest food and beverage company COFCO. It went into operation in Changchun at the end of 2018.
The new plant will produce PLA among other things for the manufacture of eco-friendly packaging, fibres, textiles and engineering plastics, and is scheduled to go into operation in fall 2021. Thyssenkrupp will design the plant and supply the key components.
Sami Pelkonen, CEO of the Electrolysis & Polymers Technologies business unit, says the second order will strengthen its position on the Asian market, which currently represents around half of the world's bioplastic production capacities.
In its development, Thyssenkrupp was able to draw on decades of know-how gained in the construction of more than 400 plastics plants worldwide. Udo Mühlbauer, Product Manager at Thyssenkrupp, says the technology is also suitable for large-scale plants with capacities of up to 100,000 tonnes/year. "In addition we have reduced energy consumption in the process through the use of an energy recovery system, further reducing costs and making production even more sustainable," he adds.

Meanwhile, Netherlands-headquartered Total Corbion PLA, a 50/50 joint venture between French oil giant Total and Corbion, will build its second PLA plant with a capacity ramping up to 100,000 tonnes/year. The new plant is planned to be located on a Total site in Grandpuits, France, and to be operational in 2024, with an investment cost of EUR200 million. Corbion will continue to be the supplier of lactic acid.
Partners since 2017 in the Total Corbion PLA 50/50 joint venture, Total and Corbion successfully launched their first PLA plant in Rayong, Thailand, in 2018, with a 75,000-tonnes/year capacity.
"Announcing our second plant project, less than two years after we started up commercial scale production at our first plant in Thailand, demonstrates our commitment to develop PLA bioplastics and our ambition to become the world leader in PLA. We are proud to be the first company launching a commercial scale Lactic Acid to PLA plant in Europe," comments Stéphane Dion, CEO of Total Corbion PLA.
Corbion and Total, the two shareholders of the joint venture, are fully supporting its ambitious growth plans.
"We are very pleased to announce this second PLA plant project located in Grandpuits, France on Total's new "Zero petrol platform", strengthening our successful partnership with Corbion," says Bernard Pinatel, President Refining & Chemicals at Total.
"PLA is increasingly finding its place as a bioplastic, enabling acceleration towards a circular economy. In our recently released Advance 2025 strategy one of our goals is, together with Total, to become the market leader in PLA. This new plant puts us firmly on track to achieve that goal." says Olivier Rigaud, CEO of Corbion.
The project remains subject to the information and consultation process of the relevant employee representative bodies in accordance with applicable laws.
(PRA)
---
Subscribe to Get the Latest Updates from PRA Please click here
©2020 Plastics and Rubber Asia. All rights reserved.
©2020 Plastics and Rubber Asia. All rights reserved.
Home
Terms & Conditions
Privacy Policy
Webmail
Site Map
About Us
SOCIAL MEDIA