Packaging: Enhanced sealing integrity and puncture resistance
Flexible film structures with advanced polyolefin plastomers help improve food and water security in Southeast Asia, according to materials firm Sabic.
Farmers living along coastal regions in Southeast Asia such as Mekong Delta, Vietnam, are under increased pressures from climate change with deeper seawater intrusion that damages crops.
The condition is worsened with increasingly frequent droughts. As a result, many farmers and people living in remote areas are in need of solutions to secure and store freshwater for farming and hygiene purposes during the dry season (IFRC, 2020).
Furthermore, the United Nation Food & Agriculture Organisation (2011) estimates that 30% of food is lost and wasted in the midst of supply chain process from transportation to handling to storage, between post-harvest and consumption.
Petrochemicals firm Sabic says it has responded separately to two Vietnamese packaging film manufacturers, to help mitigate the challenges in food & water security. Through collaborations, it developed packaging solutions with stronger puncture and impact resistance, and higher sealing integrity, by introducing Sabic Cohere polyolefin plastomers (POP) in the multi-layer packaging film structures.
Assisting farming communities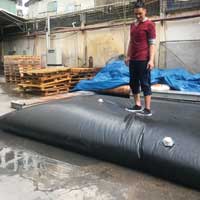 According to UNICEF and UNDP (2020) more than 680,000 people in eight of 12 provinces along Mekong Delta are reported to be affected by the drought and seawater intrusion. Lack of upstream water, due to the droughts, to push back the saltwater intrusion from the sea is creating a situation where freshwater access is increasingly limited (IRFC, 2020).
Subsequent food and water shortages could lead to health issues and loss of income. Moreover, with increased urbanisation, the harvest of farmers has to undergo a long transportation process to reach many consumers living in urbanized cities and foreign countries.
"Durable food and water packaging with puncture resistance and high sealing integrity is key to meeting these challenges," emphasises Sabic's Fahad Al-Swailem, Vice President, PE & Sales, Petrochemicals. "Two recent projects completed successfully with customers in the region have shown that our Cohere POP can enhance packaging performance when it comes to preserving the fresh and aesthetic appeal of crops from the farm to the table, as well as to providing flexible storage solutions for fresh water."
Impact resistant vacuum packs for bananas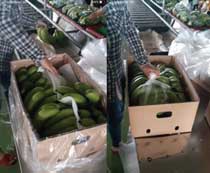 A typical agricultural produce in peril of bruise damage and decay along this complex supply chain of post-harvest handling, transportation and wholesale to retailers and consumers, is the banana fruit.
Vietnam-based Linh Khang is supplying leading plantation operators in Vietnam, Cambodia and Laos with packaging film used in the transportation of a harvest of more than 300 tonnes/year of bananas for export and domestic consumption. To minimise losses and also extend the shelf life of the fruit, the manufacturer was seeking a solution for effectively improving the protective capabilities of its banana packaging film.
In close collaboration with Linh Khang, Sabic's Market Development & Technical Support (MDTS) team identified the requirements for protecting the soft fruit against the rigours of transportation and handling, in particular moisture, shock and vibration. The collaboration resulted in the development of a multilayer vacuum packaging film that lends the banana packs impact resistance, toughness and good sealing properties. The high-performance yet costefficient multi-layer film has reduced the damage in transportation and lowered the previous rejection rate by up to 20%, according to Linh Khang.
In the meantime, Linh Khang is using the new film in 90% of its banana packaging. The unique film consists of three layers of polymers from Sabic's packaging materials offering, where a dedicated Cohere POP forms the inner layer along with a unique blend of linear low-density polyethylene (LLDPE), LDPE and Sabic Supeer metallocene LLDPE resins for the core and outer layers.
Read more...

(PRA)
---
Subscribe to Get the Latest Updates from PRA Please click here
©2020 Plastics and Rubber Asia. All rights reserved.
©2020 Plastics and Rubber Asia. All rights reserved.
Home
Terms & Conditions
Privacy Policy
Webmail
Site Map
About Us
SOCIAL MEDIA