Kraiburg TPE presents TPEs for agri, photography, oral hygiene, respiratory devices applications
TPEs for a new breed of farm technology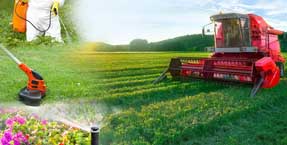 Food security is a top priority for economies worldwide in response to the rapid population growth, climate change, industrialization and shift in consumption patterns. Thus, this has led to the development of a sustainable agriculture scenario through the improvement of produce yields, with a focus on disease prevention and pest control.
Consequently, the increasing adoption of mechanisation and automation technologies for production, cultivation and pest management, necessary to efficiently meet the rising demand for food, is driving the need for modern agricultural equipment. This segment, meanwhile, has to comply with international safety standards, which are applicable in the design and development of the machine parts and control systems to reduce machine-related hazards, risks and injuries.
Specific advanced materials, such as thermoplastic elastomers (TPEs), exhibit properties that fit the criteria for safe and efficient application components for the agriculture sector.
KRAIBURG TPE, a global TPE manufacturer of a wide range of thermoplastic elastomer products and custom-engineered TPE solutions, offers TPE compounds with properties suited for applications in a wide range of agricultural sector. The TPE compounds can be used for parts and components such as grommets, seals, motors and vibration mounts on agriculture equipment like sprayers, lawn mowers, grass trimmers and fogging machinery.
Functional materials for optimised performance
The Thermolast K series has excellent mechanical properties, optimal adhesion, and easy thermoplastic processability that fit the requirements for agriculture equipment applications.
Furthermore, the Thermolast K series of compounds has good weathering resistance for outdoor applications, especially in the agriculture sector.
Additionally, an important application for this TPE series is for the water management system, which is a key adjunct to sustainable farming. Owing to their material properties, the TPE compounds are suited for use in irrigation systems; and for fittings, sealing and tubing.
As well, the TPE series' excellent adhesion to PC, ABS, PC/ABS, PA, POM, PP and PE makes it an appropriate material for applications in the agriculture machinery sector.
Groundwork for a better design
The basis of a reliable machine is a robust, durable and functional design. The Thermolast K series can achieve such factors as it allows for insert moulding, catering to design flexibility and the ability to develop unique shapes and parts that are used in various applications in the agriculture equipment sector.
Moreover, the Thermolast K series provides a pleasant surface-feel that is suited for handles of hand-held agriculture machinery.
As well, other possible applications, such as sealing for protective gears, goggles and grips on tools, benefit from the soft-touch advantage of the TPE series.
Service package to cultivate customer satisfaction
Kraiburg TPE offers its customers a worry-free sales and service process, and custom solutions. The company delivers a range of TPE products for multiple industries and the capability for customised compound modification based on specifications. Moreover, its international network with multiple offices worldwide can offer the right support to its customers throughout the entire process.
TPEs make the grade in photography equipment
The go-to device for documenting memories of travels, get-togethers, or important life events, the camera has come a long way since its early beginnings. The modern point-and-shoot camera technology has advanced, providing more control, flexibility, and adaptability for users to produce crystal clear images.
With mobility a basal feature in consumer products, compact-sized cameras that are compatible with their full-sized counterparts are gaining a market advantage. Camera accessories, ranging from memory cards, battery packs and lenses to tripods, flash sticks, bags and neck straps, aid in enhancing the image quality and augment the service life of a camera.
The design of camera accessories has also adapted along with users' requirements for durability, ease of use and personalization. Manufacturers of camera accessories rely on advanced materials such as thermoplastic elastomers (TPEs) to fulfil the product application criteria for versatility, durability, and safety specifications, among other features. KRAIBURG TPE offers the Thermolast K GP/FG and For Tec E AD/PAX/CR series compounds for soft-touch and easy colouring advantages in camera accessory applications.
For a better grip
Kraiburg TPE's GP/FG series provides camera users with a better grip on handles of photography accessories. It is suitable to be applied on handles in photography accessories such as waterproof cases, protective cases, action camera monopods, as well as on buttons, thumb wheels and switches, thanks to its dry haptic and soft touch surface.
It is also suitable for application on sealing of a camera body and the lenses, where it provides protection and excellent aesthetics.
The GP/FG series has excellent adhesion to PP, making it ideal for two-component moulding. Furthermore, it can be coloured to various colour options, allowing for functional design elements in photography equipment and accessories.
Another key advantage of the GP/FG series is its halogen-free feature, in accordance to IEC 61249-2-21.
Catering to soft touch requirements
Taking advantage of the superior touch and feel features, Kraiburg TPE's AD/PAX/CR series is the material solution for two-component seals in electronic applications and soft-touch handles.
The AD/PAX/CR series is resistant to skincare oils, sun cream and olive oil, making it suitable for application on parts that require high contact with skin, such as handles and grips on monopods, tripods, camera stabilisers and protective cases.
It is also suitable for application on sealing of a camera outer case, camera screen and photography lighting equipment.
A key advantage of the AD/PAX/CR series is its excellent adhesion to partially aromatic polyamides (PAX) and polyacrylamides (PARA), PA12, PA6 and PA6.6 (up to 50% glass fibre).
TPEs in colour
Kraiburg TPE provides samples and series production in high colour precision and uses high quality colour pigments and masterbatches in its TPE compounds.
KRAIBURG TPE also maintains its colour consistency globally, to suit customer requirements worldwide.
The pre-coloration service is available for TPE compounds for use in the consumer, automotive, medical, and other industry markets.
Sonic toothbrush: Supplies Ameba with TPEs for oral hygiene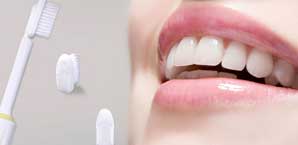 Kraiburg TPE supplied the Thermolast K TPE for the production of the sonic toothbrush manufactured by Malaysia-based Ameba Products. TPEs have become vital materials in the manufacture of oral hygiene products. Food-contact TPE compounds fit the specifications for oral hygiene products thanks to its flexibility, superior design freedom and efficient processability. When Malaysia-based Ameba Products (M) SdnBhd was sourcing for a suitable material for its latest Oral SPA sonic toothbrush, it selected a high-quality thermoplastic elastomer from Kraiburg TPE to enhance the functionality of its toothbrush product line.
Ameba Products is committed to producing toothbrushes of the highest quality, having developed the fingertip toothbrush and its latest product, the sonic toothbrush. "The new Oral SPA sonic toothbrush required a more complex design, compared to the fingertip toothbrush. It underwent various trials and a process of fine-tuning. Through Kraiburg TPE, we were able to source for the right material," said the Founder of the company Jimmy Lai. Conforming to standards In close collaboration with Kraiburg TPE, Ameba Products selected the food-contact grade Thermolast K TPE compound range, with relevant FDA (raw material conformity) - Code of Federal Regulations (CFR), Title 21 and standard EN71/3 regulations.
Thermolast K offers the perfect balance between flexibility and easy processability via injection moulding of the Oral SPA toothbrush refill component. Convenience of use, the brush head of the Oral SPA sonic toothbrush is designed to be detachable and easily mountable onto the locking mechanism. The high-speed stroke action results in the production of foam, which works to dislodge plaque on the surface of the teeth, and provides effective brushing and cleaning of hard-toreach spots. Explained Jimmy Lai, "With our Oral SPA series, we provide a holistic mouth hygiene solution with high-speed stroke action, a third-dimension action that is different from rotational or manual brushing." Thus, to allow for a quality oral hygiene product, the Thermolast K TPE compound meet the needs for flexibility and durability. Also, the softness and haptic surface quality of the TPE compounds applied for the brush head assure users maximum comfort.
Consistent TPE material The Thermolast K TPE compound combines high flowability with superb stable colorability for versatile promotional effects. Together, these properties offered Ameba Products unlimited possibilities in design, form, and function to deliver the unique features of its Oral SPA sonic toothbrush while enhancing user experience. "The quality of the Thermolast K TPE compound is good and consistent. It has remained unchanged since our very first purchase and the outcome is satisfying," added Jimmy Lai. "Apart from assisting us in the selection of the most suitable compound for this application, Kraiburg TPE went the extra mile to support us with their expertise throughout the entire project. Thanks totheir high material quality and service standards, we are able maintain our competitive edge in the market."
Kraiburg TPE, NEXTIS partner on flexible USB socket protection cover moulded in Thermolast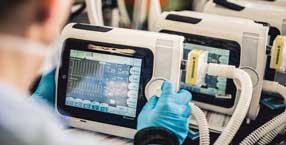 In close collaboration with Kraiburg TPE, French medical components specialist Nextis has developed an articulated cover designed to protect the USB port on respiratory devices against dust and splash water entry. The part is moulded in a proven Thermolast compound that delivers a perfect balance of high mechanical properties and aesthetics, ease of injection moulding, and reliable resistance against professional cleaners.
As a system supplier of medical components and assemblies, Nextis is moulding several parts for an advanced respirator from Air Liquide Medical Systems (ALMS), including a flexible protective cover for the device's USP port. The cover is clipped to the device housing and has a hinged closure that ensures the sealing of the USB socket, when not in use, against the entry of dust particles, splash water, and foreign objects.
"For this application, we needed a soft but resilient material that will reliably withstand the repeated opening and closing of the protective cover over the lifetime of the respiratory device, without deformation and loss of its sealing function," explains Mr Benoit Lafin, R&D Manager of Nextis. "Based on our long-standing collaboration in other projects using thermoplastic elastomers from Kraiburg TPE, we decided to partner with them again in taking this demanding part design into reality. Their material expertise and support helped us to speed up the development process and maintain overall cost-efficiency. Beyond medical devices, the solution can also be used for similar covers in industrial equipment, as well as in consumer and automotive electronics."
The TPE compound selected for the articulated cover has proven to be a fit in many other soft-touch aesthetic and functional components. It offers excellent mechanical properties, such as high elongation at break and high tear resistance, as well as long-term dimensional stability, thanks to its low compression set.
Further key requirements to be met included high flowability for short cycle times in injection moulding and finished-as-moulded surface quality. In addition, the USB socket cover must provide and maintain good resistance against the attack of cleaners used in professional and medical environments, without causing embrittling or discoloration. The Thermolast compound is supplied in opaque colour and blended on site with a black masterbatch when injected. If required, the material can also be supplied in specific customized colours.
"The USB port cover from Nextis is an outstanding example of a smooth collaboration between material and component suppliers within the medical engineering field," adds Laurence Cassarino, Sales Representative at Kraiburg TPE France. "We are pleased to be part of this success, in particular as the respirators on which the protective cover is used meet an urgent need in addressing the persisting coronavirus pandemic. Other current applications in healthcare utilising our thermoplastic elastomers span from face masks and ventilator tubes, through to valves, connecting pieces, buttons and elastic straps."
The Thermolast range is available globally and can be easily recycled to meet the demands of enhanced sustainability in a circular plastics economy.
(PRA)
---
Subscribe to Get the Latest Updates from PRA Please click here
©2020 Plastics and Rubber Asia. All rights reserved.
©2020 Plastics and Rubber Asia. All rights reserved.
Home
Terms & Conditions
Privacy Policy
Webmail
Site Map
About Us
SOCIAL MEDIA