Machinery News: Brückner teams up along the value chain for BOPP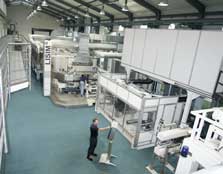 Extrusion machinery maker Brückner Maschinenbau says it is involved at many levels of the value chain with materials/ machine makers for a host of new technology
One of its collaboration is with materials maker Dow in developing BOPE-LLD and BOPE-HD resins and films as well as barrier solutions for BOPE (biaxially oriented polyethylene). It is also testing with materials maker Sabic a new BOPE-LLD material and has tested Sabic's certified circular BOPP material (which incorporates recycled content) as a drop-in solution for biax-film applications.
Meanwhile, it is working with chemicals maker Nova Chemicals to commercialise a new high-density resin technology for the BOPE market. Besides BOPE-HD, Nova offers also BOPE-LLD grades. In a common project with Nova, film producer Polivouga and Brückner, a full BOPEpouch consisting of BOPE-HD for the stiff base film and BOPE-LLD as sealing web will be presented to the market.
Brückner has also developed with film manufacturers: Bulgarian Plastchim-T and Portuguese Polivouga, ultraflexible BOPP/BOPE hybrid lines for an extended range of films. Both lines will be in operation by the second half of the year 2021.
In the "Circular Alliance", six companies teamed up to produce new high barrier mono material flexible packaging solutions designed for recyclability. The partners include Dow, Brückner for the production of the biaxial stretched PP and polyolefin-based films, Hosokawa Alpine for the production of MDO LDPE, Elba to convert the finished film rolls into pouches, Constantia Flexibles to produce metallised high barrier stand-up pouches and finally Bobst with its high barrier, printing/lamination.
Last year also, a value chain project initiative was launched by a group of companies under the acronym PRINTCYC (Printed PP films for mechanical recycling) to research and test ways to create circular economy solutions basing on post-industrial waste. Members of PRINTCYC include Brückner, thermoforming machine maker Kiefel and PackSys Global, film producer Profol, ink manufacturers Huber Group and Siegwerk, converters Constantia Flexibles and Wipak as well as recycling specialist Erema.
Coordinated by akk innovation, the first two project phases were to look at the impact of different ink formulations on the mechanical PP and PE recycling process. Furthermore, the re-usability of PP and PE recyclates (rPP/rPE) made from printed post-industrial film waste was evaluated in cast film, blown film, compression moulding and thermoforming technologies as well as the biaxial stretching process.
R-Cycle is the open and globally usable tracing standard along the life cycle of plastic packaging. Partners in this project are: machine makers Arburg, Kautex Maschinenbau, Reifenhäuser, Brückner, the Institute for Plastics Processing (IKV) and GS1 Germany.
(PRA)
---
Subscribe to Get the Latest Updates from PRA Please click here
©2020 Plastics and Rubber Asia. All rights reserved.
©2020 Plastics and Rubber Asia. All rights reserved.
Home
Terms & Conditions
Privacy Policy
Webmail
Site Map
About Us
SOCIAL MEDIA