Lindner doubles capacity with new hq/facility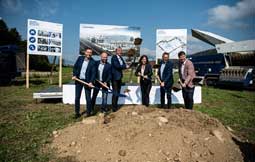 Waste processing and shredding technology equipment supplier Lindner Recyclingtech, founded in Austria in 1948, celebrated the groundbreaking ceremony for its new factory premises recently. Strengthened by the successes of recent years, the company says it is investing in a new site covering over 45,000 sq m. In addition to a manufacturing facility, the new headquarters will become what it says will be an international Centre of Excellence for waste recovery and recycling – in keeping with the circular economy concept.
When the Lindner machine factory opened its doors in the 1940s, the company manufactured sawmill equipment. The big transformation happened in the late 1980s and the Austrian company was one of the first started to delve into shredding and waste processing – Lindner Recyclingtech was born.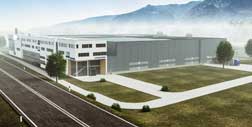 Today, 72 years later, recycling and the sustainable use of resources are among the pressing issues of the current times and the Spittal-based family business adds that it is one of the world's leading companies when it comes to turning waste into a valuable resource.
"At the moment, the industry is undergoing a major change. Recycling rates and quality requirements for end materials are constantly rising and so we are continuing to develop new systems. Systems that enable our clients to meet these requirements," explained CEO/Owner Manuel Lindner during the groundbreaking ceremony at the future Spittal-Ost headquarters.
"To ensure that we can continue to do this efficiently, we are doubling our capacity and relying on the latest production technologies that meet industry 4.0 standards," he added.
Besides a robot-assisted manufacturing facility and a modern logistics centre, an academy focusing on recycling technology will be built on the site.
As Michael Lackner, Managing Director at Lindner, stated: 'We were one of the industry's pioneers and accumulated an enormous amount of application expertise. Today, we see ourselves not only as a machine manufacturer and technology partner, but also as a source of knowledge for our clients. That's why it is so important to us to constantly expand this know-how, develop new solutions and systematically prepare and pass on the knowledge gained. We are looking forward to welcoming you soon to the new home of recycling."
(PRA)
---
Subscribe to Get the Latest Updates from PRA Please click here
©2020 Plastics and Rubber Asia. All rights reserved.
©2020 Plastics and Rubber Asia. All rights reserved.
Home
Terms & Conditions
Privacy Policy
Webmail
Site Map
About Us
SOCIAL MEDIA