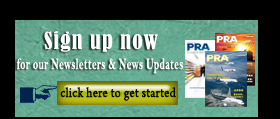 AZO turns 70 this year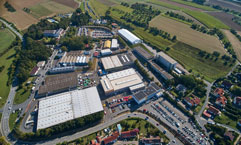 German materials handling equipment supplier AZO recently celebrated its 70th anniversary. The AZO (Adolf Zimmermann Osterburken) company was founded in Osterburken, Germany, by Adolf and Marianne Zimmermann in 1949. It started out with a workshop and soon grew to become a mid-sized business, which initially produced feeding machines for bakeries.
Today, the group of companies operates worldwide, supplying innovative turnkey solutions for automatic handling of raw materials to the food, pharmaceuticals, chemicals and plastics sectors. In 2018, the AZO Group generated a turnover of EUR182 million with over 1,000 employees; seven international sales subsidiaries and over 30 agents worldwide.
Despite the international nature of the business, Director Rainer Zimmermann, son of the company's founder, reaffirms his loyalty to Osterburken as the company's location. AZO is also a family business with the the third generation continuing to manage the business.
"Our passion lies with the automation and logistics of raw materials. The proficiency we offer to our customers creates a basis for their quality products," he said.
True to the guiding principle of "70 years of AZO – One company. One family.", the anniversary was fittingly celebrated with an open day and an evening event for the workforce in September. With the benefit of glorious late summer weather, around 7,500 visitors came along to the company grounds, which extend over a 70,000 sq m area.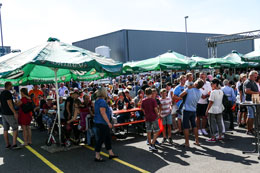 During their visit, guests were able to learn all about the skills at AZO. They could travel back in time with AZO's legendary cyclone screener: from the early beginnings, with the invention of the first cyclone screener made of wood, right through to the high-end containment screener that is made of stainless steel.
The 'Automation' department demonstrated the development of plant automation with hardware and software highlights from the last 40 years. Highlights were shown from the early days of AZO control technology in the 1980s through to full automation of entire manufacturing processes. People could try out digital tools in the context of comprehensive plant engineering for themselves using VR and AR technology.
Apart from the in-house laboratory and test centre at the AZO customer centre, visitors were also able to view the considerable level of vertical integration in all areas of mechanical and electro-technical production. The activities organised by AZO's staff provided both information and fun and games for the whole family.
An evening event was held for AZO's staff with around 1,500 guests, including entire workforce and retired AZO employees, who now number almost 200.
AZO says that in spite of the company's 70-year history and its global presence with innovations addressing all aspects of automated raw materials handling, the Zimmermann family is definitely very much aware of its roots. It still stands with AZO in Osterburken for "One company. One family", says the firm.
(PRA)
---
Subscribe to Get the Latest Updates from PRA Please click here
©2019 Plastics and Rubber Asia. All rights reserved.
©2019 Plastics and Rubber Asia. All rights reserved.
Home
Terms & Conditions
Privacy Policy
Webmail
Site Map
About Us
SOCIAL