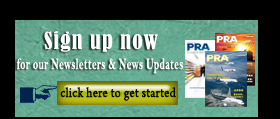 Recycling: Advancing the circularity of plastics
Also, download this story from the electronic issue here
New technologies are efficiently recovering waste to turn them into materials that can be used for useful items, says Angelica Buan, adding that waste plastic is a gold-mine for recyclers.
Waste generation is increasing at a fast pace, and this could take a heavy toll on the environment. Quite literally, the world's cities generated 2 billion tonnes of solid waste in 2016, according to the World Bank. This is about 200 times as heavy as the Eiffel Tower in France, or about 350 times as heavy as the Pyramid of Giza in Egypt! Rapid population growth and urbanisation are accelerating the generation of waste. A person is said to contribute 0.7 kg/day of waste to the heap of garbage. By 2050, the volume will increase by 70% to 3.4 billion tonnes.
On the bright side, plastic waste can be tapped for valuable resources, only if efficient waste management practices are implemented. As they say, one man's trash is another man's treasure.
Research firm Frost & Sullivan, in its latest report on the global waste recycling market, estimates the plastic recycling market size at US$37.6 billion in 2018.
It is no doubt that recycling services have become a lucrative industry. Recovering valuable materials that will otherwise be lost in landfills is a winning cause for the recycling industry.
Technology advancements, government initiatives towards waste product recycling and active campaigns to reuse waste materials are driving the growth of the waste recycling services, according to Future Market Insights (FMI) in its 2014-2020 global industry analysis of the waste recycling services market.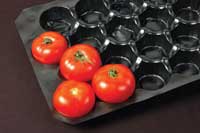 Recyclability of materials is gaining traction across major sectors (automotive, construction, and others), amid the strong impetus against rising greenhouse gas emissions and the carbon footprint.
This trend, as highlighted in a report by the Global Market Insights, is steering the global recycling equipment and machinery industry towards the figure of US$1.2 billion by 2025, growing at a CAGR of 6.3% from 2018.
Trouble-shooting black plastic recycling
Most black plastic packaging is not sorted by optical sorting systems that are commonly used in plastic recycling. Hence, most of them end up in landfills or are recycled into lower value materials. To help solve this problem, UK-headquartered organisation WRAP recommends that retailers, brand owners and packaging manufacturers use detectable black colourants, as a viable option to the typical carbon black pigments, to enable optimum recycling of black plastics.
WRAP reasons that by selecting a detectable black colourant that enables the polymer to be detected by optical sorting systems the packaging supply chain can enable black plastic packaging to be recycled into a high quality, high value material. The latter can be used as a substitute for virgin plastic in the manufacture of new items, and benefit the environment as well as the financial viability of mixed plastics recycling.
WRAP's work in partnership with key players in the retail supply chain was carried out in three phases, including the use of alternative sorting technologies and alternative colouration systems, as among the potential solutions.
Novel NIR (near-infrared) detectable black colourants were developed and shown to look satisfactory in amorphous PET (APET), crystallised PET (CPET), PE and PP packaging food trays. Thus, the packaging can be sorted by polymers using NIR sorting systems used commercially in plastics recycling. WRAP said that the incremental costs of using detectable black colourants are anticipated to be reduced over time as demand and volume increases.
In a related development, UK gourmet dairy brand The Collective is introducing a NIR colourant technology that could help the industry recycle black plastic trays and packaging. The original Collective lid featured carbon black and other pigments, which are not detectable to the sensors used by recycling operations.
Collective consulted with UK-based independent consultancy in recycling plastics solutions Nextek and partnered with specialist additive and masterbatch manufacturer Colour Tone to develop a new black masterbatch. Thus, from now, the black lids on The Collective's 450 g and 900 g yoghurt tubs will feature the new technology.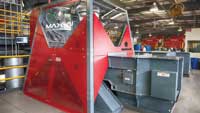 On the recycling technology front, US equipment manufacturing and engineering company National Recovery Technologies (NRT) has integrated its SpydIR optical sorter with Max-AI technology, an artificial intelligence system that identifies recyclables and other items for recovery using a camera and neural network algorithm (NN).
NRT's SpydIR technology uses NIR detection to identify plastics, paper, wood and other materials by material type. Now, with the Max-AI optical sorter, it employs both detection technologies to create an optical sorter that is able to combine the information from each technology to deliver a unique sorting capability.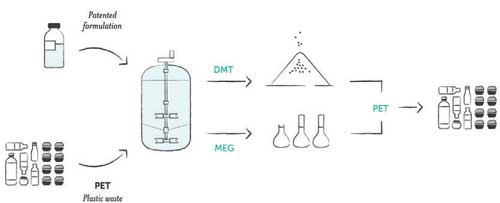 In its initial installation at Penn Waste in York, Pennsylvania, Max-AI was integrated with a SpydIR unit that was designed to sort out paper from the pre-sorting to a container line. The unit was seeing a significant quantity of steel cans with fibre labels that were being ejected by the optical unit. Max- AI is able to identify these cans and suppressed the firing signal in the optical unit to prevent contamination in the fibre stream. Not only is Max-AI able to identify this material, but it is able to do so at speeds of 600 fpm on the optical feed belt. Thus, material quality increased dramatically as did the recovery of both fibre and ferrous cans.
NRT President Matthias Erdmannsdoerfer commented that the company's recycling capability is enhanced by SpydIR's speed and confidence, while adding the criteria that Max AI is able to differentiate. For example, in a PET sorting application, while the optical sorter identifies the material PET, Max AI is able to differentiate between different PET items like a thermoformed tray, redemption container, foodgrade item, flexible plastics, rigid bottle and more. Thus, the customer is able to produce a product with increased value at a minimal additional expense without the need to add on labour.
Debottlenecking the PET recycling stream
PET renders durability, lightweight and recyclability advantages when used for packaging, including bottles, jars, pouches, trays, lids/caps and closures, and others.
According to a report by Persistence Market Research, PET accounts for the highest share in the recycled plastic market by resin type. PET is easily available in recycled waste scrap and it costs less, compared to other recycled plastics. Additionally, the recycling rate of PET is high, and is anticipated to be worth about US$10.5 billion by the end of 2025.
In this same vein, Bangkok-headquartered integrated PET maker Indorama Ventures and Canada-based recycling start-up Loop Industries are joining forces to recycle polyester and PET to cater to the growing global demand from beverage and consumer packaged goods companies. The 50:50 partnership plans to begin production in 2020 and will manufacture and commercialise what it says will be 100% recycled PET (rPET) resin and polyester fibre.
It is expected that Indorama will retrofit one of its existing plants in the US for the recycling joint venture, using Loop's depolymerisation technology, which breaks down the plastic molecules to basic monomers DMT and MEG that can then be used to produce PET.
This year, Indorama also acquired French plastics recycler Sorepla Technologie, which has a capacity to produce 52,000 tonnes of recycled plastics/year, to improve its offering of rPET in Europe.
Reprocessing mixed textile waste
According to the New York-headquartered non-profit organisation National Resource Defense Council (NRDC), the apparel industry is among the world's biggest polluter, with its mills generating a fifth of the world's industrial water pollution. Notwithstanding the fact that the factories use 20,000 chemicals to produce clothes.
It is not surprising that the fashion industry is starting to lead in innovating sustainable fabrics, using non-oil materials, natural fabric composites and energy and resource-efficient processes.
Fashion retailer H&M , through its non-profit H&M Foundation, has teamed up with the Hong Kong Research Institute of Textiles and Apparel (HKRITA), and opened two textile recycling facilities in Hong Kong, and piloted at scale what it claims to be a first of its kind hydrothermal recycling technology.
The recycling technology consists of chemical and hydrothermal treatments, to recycle cotton and polyester blends into new fabric and yarns. Furthermore, a miniaturised garment-to-garment recycling system is open to the public.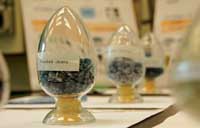 Over the same period this year, a new preindustrial size facility scaling this technology was launched. The ultimate purpose of the facility is to encourage fashion brands and stakeholders worldwide to implement this technology within their own operations. Eventually, as the technology is scaled up and is made freely available to the industry, dependence on limited natural resources will be reduced, according to Erik Bang, Innovation Lead, H&M Foundation.
The H&M Foundation is projected to invest EUR5.8 million with HKRITA over four years, made possible through the surplus from the H&M group's in-store garment collecting programmes, which is donated to the H&M Foundation. The foundation allocates 50% of the total surplus towards research on textile recycling and the other 50% to projects focusing on equality and inclusion of marginalised groups.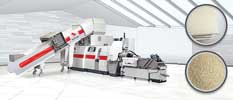 Meanwhile, recycling specialist Starlinger has also embarked on a research project for the separation and reprocessing of mixed textile waste. The Austrian firm, which has already developed solutions for closed loop production in the field of polyester textiles, has joined three universities and eight Austrian companies that are involved in the COIN-project TEX2MAT. It is led by the Plastics Cluster of ecoplus, the business agency of Lower Austria, and funded by the Austrian Federal Ministry for Digital and Economic Affairs (BMDW).
The two-year project, which started in 2017, oversees the recycling of different kinds of old textiles that consist of a mixture of polyester and cotton.
The first step is the enzymatic separation of polyester and cotton in a procedure developed by the Viennese University of Natural Resources and Life Sciences; after appropriate reprocessing, the materials are reused in new products. The input material is supplied by the companies Herka Frottier, Salesianer Miettex and Huyck as well as Wangner Austria (Xerium Group), which are all located in Lower Austria. Starlinger provides recycling services and expertise to the project. To achieve an optimal result, regular controls of the material properties are performed by the University of Leoben.
The project partners are working on specific case studies, namely, mixtures of polyester and cotton from the production of towels as well as old textiles in the form of bed linens and working clothes that are shredded by Starlinger and that then undergo enzymatic treatment at the Technical University of Vienna.
The goal is to develop a sample process for closed loop production. Nylon non-wovens are shredded and turned into regranulate by Starlinger; compounder Thermoplastkreislauf then adds glass fibres, additives and/or colours and Austrian plastic product processors like Multiplast Kunststoffverarbeitung and Fildan use this customised material in the production of parts for fire extinguishers or bra fasteners.
Starlinger says initial results of the TEX2MAT project will be made known at the K show 2019 in Düsseldorf, Germany, next year.
The textile industry is growing, and the proportion of multi-material textiles, i.e., mixtures of various natural and artificial fibres, is steadily increasing. Society and lawmakers rightly demand rapid technological solutions for the recycling of this kind of waste in order to protect the environment and save material resources. Besides closing the loop from raw material to raw material, the project aims at efficient recycling that yields an end product with virgin-like characteristics.
(PRA)
---
Subscribe to Get the Latest Updates from PRA Please click here
Copyright (c) 2018 www.plasticsandrubberasia.com. All rights reserved.