Tie-ups: Covestro/Teknor Apex to market compounded TPU; Stora Enso and Cordenka to develop bio-based carbon fibre materials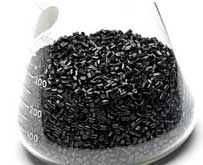 German materials manufacturer Covestro and US compounder Teknor Apex have tied up to cooperate on compounding thermoplastic polyurethane (TPU). Covestro has been producing TPU in pure form for many years for use in various industry sectors. Through compounding, i.e. mixing with other materials, the array of achievable properties can be increased considerably further. This is a particular strength of Teknor Apex and the jointly developed products by Teknor Apex will be marketed under the Desmoflex brand.
TPU is used in the automotive industry, in sports and leisure articles, the IT and electronics industry, medical technology and other sectors and can be made with various properties, ranging from soft to hard and from elastic to stiff, depending on customer requirements. All products have in common a high abrasion and wear resistance as well as chemical and weather resistance. The plastic granulate can be processed into profiles, strips, hoses, fibres, films or foams.
Formulating and compounding steps can be used to create an additional value proposition compared to just a neat resin. For instance, specific end-use requirements such as flame retardancy, adhesion, appearance and haptics etc. can be enhanced through specific formulation and compounding techniques.
"We are excited to become Covestro's preferred global compounding partner. The combination of Covestro's expertise in TPU resin with Teknor Apex's custom formulation and compounding capabilities provide a compelling value driver for our combined customers worldwide," says Sachin Sakhalkar, Vice President, TPE Division, at Teknor Apex.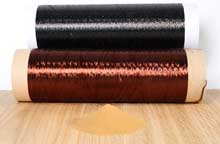 Meanwhile, in other news, Swedish renewable products firm Stora Enso has tied up with Cordenka GmbH, the largest producer of industrial rayon in the world, to develop precursors for bio-based carbon fibre. The co-development is driven by the need for high performance carbon fibre in transportation, construction and power generation.
Stora Enso has been developing the technology for manufacturing carbon fibre from wood-based raw materials, i.e. dissolving pulp and lignin, at laboratory scale. The agreement with Cordenka aims at upscaling the precursor development process to pilot-scale operation. The precursor development is carried out with specialised manufacturing spinning equipment at Cordenka's Obernburg production site in Germany. The venture is supported by European private equity company BMC (Beautiful Mind Company) that has owned Cordenka since 2018, as part of its strategy to extend the reach of Cordenka into new growth markets and Asia.
Carbon fibre demand is increasing steadily at an annual growth rate of 10%. The target of the partnership will be on developing carbon fibre initially for industrial applications requiring low weight and high mechanical performance, such as pultruded laminates used in manufacturing wind energy rotor blades. Today, 20% of the global carbon fibre supply is used by the wind energy industry.
Nowadays, carbon fibre is made from PAN (polyacrylonitrile) which is an oil-based raw material. The raw materials for bio-based carbon fibre are cellulose and lignin, which come from trees. In the bio-based carbon fibre process, cellulose is converted to viscose and mixed with lignin to form the spinning dope. The dope is spun into precursor fibre that is thermally converted to carbon fibre.
Cordenka's yarn-production facilities are located in Obernburg, Germany. Converting operations are located in Obernburg, Mühlhausen and in Gorzow, Poland. The Cordenka spinning plant in Obernburg has a capacity of 32,000 tonnes/year of industrial rayon yarns; some 36,000 tonnes/year of dipped cord fabric capacity is available in Obernburg and Gorzow.
"It is exciting to partner up with to develop bio-based carbon fiber that replaces oil-based raw materials," says Markus Mannström, Executive Vice President of Stora Enso's Biomaterials division. "Our ambition is to provide industrial composite producers with a sustainable, yet cost-competitive, carbon fiber made from renewable and fossil-free materials. Thus, we continue to contribute to Stora Enso's vision of a low-carbon society. We also look forward to attracting more partners downstream in the value chain, such as carbon fiber companies, to join the collaboration," Mannström concludes.
"Stora Enso and Cordenka are a natural fit. Stora Enso has developed important new technology and Cordenka has critical manufacturing expertise. Both companies have been manufacturing products based on renewable resources for decades and both are market leaders in their respective fields. Making carbon fiber precursors for composite reinforcement from wood-based feedstock is a major leap forward in material science," says Kurt Uihlein, Chief Marketing Officer of Cordenka.
(PRA)
---
Subscribe to Get the Latest Updates from PRA Please click here
©2020 Plastics and Rubber Asia. All rights reserved.
©2020 Plastics and Rubber Asia. All rights reserved.
Home
Terms & Conditions
Privacy Policy
Webmail
Site Map
About Us
SOCIAL MEDIA