KHS invests EUR20 mn in site modernisation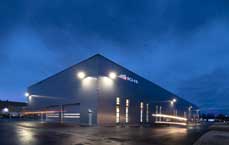 In a bid to boost competitiveness, KHS Group, a manufacturer of filling and packaging systems for the beverage and liquid food industries, has invested EUR20 million in modernising its headquarters on Juchostraße in Dortmund, Germany. In a bundle of measures underway since 2015 the company has built a 4,300- sq m production shop and fully renovated another.
Key elements of the modernisation included extending the production area and renewing the machine park. At its production site in Dortmund, KHS has erected a completely new production shop. In the 4,300 sq m area, the systems supplier has now created conditions that enable the relevant technology for container and pack conveyors to be merged and order processing to become more efficient.
KHS has also modernised one of the oldest production buildings on the company premises. With an investment of EUR6 million for this project alone the engineering company has not only renewed the shop floor and roof; it also optimised its Sheet Metal Manufacturing Department housed in the hall, incorporating new technology that includes a faster, more efficient fibre laser, a combined punching/laser machine and a larger, fully networked sheet metal warehouse.
KHS says this yields many benefits for its customers in the beverage industry, among them leading brands from around the globe.
Local employees also profit from the site's extensive modernisation. KHS has now renewed the factory canteen and various office complexes, including the workstations in various company departments. With around 1,200 personnel the company in Dortmund manufactures machines for labelling, pasteurisation and bottle washing, among other equipment, plus container conveyor technology for industrial beverage production.
For KHS, the modernisation is a big commitment to the production facilities in Dortmund, says Plant Manager Joachim Konrad. "The Dortmund plant is extremely important to the KHS Group, also because of its standing as our international company headquarters. With our investments we're making it fit for the future. This sends out a strong signal to the regional economy."
KHS also aims to devise a Science 2.0 master plan that the Dortmund council adopted in November of last year. In the field of production technology KHS is engaged in an exchange of expertise together with representatives from other companies and the TU Dortmund. "We're pleased to be doing our bit for a strong regional economy and can apply our practical experience in this area. As a large industrial employer we also benefit from well-trained specialist workers," Konrad concludes.
The KHS Group includes the following companies: KHS GmbH, KHS Corpoplast GmbH and numerous subsidiaries outside Germany, located in Ahmedabad (India), Sarasota and Waukesha (US), Zinacantepec (Mexico), São Paulo (Brazil) and Suzhou (China).
KHS manufactures modern filling and packaging systems for the high-capacity range at its headquarters in Dortmund, Germany, and at its factories in Bad Kreuznach, Kleve, Worms and Hamburg, where the group's PET expertise is pooled. The KHS Group is a wholly owned subsidiary of the SDAX-listed Salzgitter AG corporation. In 2019 the KHS Group and its 5,149 employees achieved a turnover of around EUR1.2 billion.
(PRA)
---
Subscribe to Get the Latest Updates from PRA Please click here
©2020 Plastics and Rubber Asia. All rights reserved.
©2020 Plastics and Rubber Asia. All rights reserved.
Home
Terms & Conditions
Privacy Policy
Webmail
Site Map
About Us
SOCIAL MEDIA