Kraiburg TPE rolls out Thermolast K TPE series for modern and smart kitchen appliances applications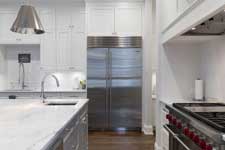 Smart home appliances have arrived in the modern kitchens, showcasing the wonders of the Internet of Things - from automated to sensor-enabled appliances to make the whole cooking process easier, faster and more convenient. Adoption for smart innovations is likewise gaining traction for their higher energy efficiency and thus, smaller carbon impact.
Smart kitchen devices provide a range of functions to make cooking, storing and cleaning more convenient, more efficient, quicker, and safer. Moreover, these modern kitchen devices help in keeping the freshness and taste of food, while at the same time aiding in minimizing food wastage.
Thermoplastics Elastomers (TPE) fit the requirements for durability, food safety and aesthetic design in standard or multiuse kitchen appliances such as food processors, air fryers, food dehydrators, steamers, multi-cookers, ovens, dishwashers, yogurt makers, blenders, coffee machines, and more. TPEs, with its scope of properties such as heat and cold resistance, are able to withstand the rigors of daily use in a busy kitchen.
Kraiburg TPE, a global TPE manufacturer of a wide range of Thermoplastic Elastomer products and custom solutions for multiple industries, offers the THERMOLAST® K series for applications in kitchen appliances.
Solution for trendy, high-performance design
The Thermolast K series is applicable in stylish kitchen tools with soft touch, innovative shape and robust build, owing to its excellent mechanical properties including hardness range, elasticity, and thermal stability, as well as various colouring options available in-house.
The recommended series such as the FC/HE/tl series, which delivers excellent resilience properties, comes in translucent colour that results in easy colorization. The TPE compound has possible applications in pump seal and sealing water container of coffee machine.
The FC/AP series exhibits good processing behaviour and pleasant surface feel. Available in natural and translucent colours for easy colouring, the series is suitable for blender handle grip, rice cooker button, cake mixer handle, and more.
Also, Kraiburg TPE has a broad Thermolast K series range, which focuses to the requirements of various kitchen appliance applications.
A key ingredient for safety
The Thermolast K series is recyclable; free of latex, PVC, phthalates, and bisphenol A; and there is no use of halogens and heavy metals. It has a high thermal stability and is compliant with the global standards for food-contact safety, such as the EU Regulation No 10/2011 the Food and Drugs Administration (FDA) Code of Federal Regulations (CFR), Title 21, and the EN71/3 European safety standard. (Press Release)
(PRA)
---
Subscribe to Get the Latest Updates from PRA Please click here
©2020 Plastics and Rubber Asia. All rights reserved.
©2020 Plastics and Rubber Asia. All rights reserved.
Home
Terms & Conditions
Privacy Policy
Webmail
Site Map
About Us
SOCIAL MEDIA