TPEs for respiratory device applications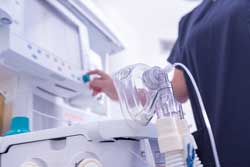 Thermoplastic elastomer (TPE) materials yield properties suited for medical applications, specifically for respiratory equipment. Benefits such as low surface friction, good sealing, soft touch, elasticity, durability, and good adhesion are ideal for use in respiratory equipment, respiratory support disposable products, oxygen masks and other domestic and clinical applications.
Kraiburg TPE's medical grade compounds are sterilizable according to current pharmaceutical and medical standards. We provide high quality and reliable compounds, with worldwide availability of the compounds.
Kraiburg TPE provides a unique service package that focuses on customer needs in constantly recording the manufacturing process in the drug Masterfile (DMF); and by guaranteeing a 24-month supply security.
Head of Sales Medical, Matthias Schmidt, commented: "Mask applications are diverse and therefore require custom-engineered TPE solutions. Material properties such as surface friction, softness, adhesion to thermoplastics and colour can be individually adapted. With our years of experience and the available approvals, we are well prepared for the project discussion with you."
Kraiburg TPE offers TPE for respiratory masks: reliable quality for medical devices; adhesion to PP, ABS, PC, PBT or PA; thermoplastic processing; conformities in medical technology.
Medical compounds for masks: respiratory equipment; disposable products for the respiratory support; oxygen masks; domestic or clinical applications.
Selected compounds have the common conformities in medical technology: DIN ISO 10993-4 "Hemolysis, indirect in human blood";DIN ISO 10993-5 "Cytotoxicity"; DIN ISO 10993-10 "Intracutaneous Irritation"; DIN ISO 10993-11 "Acute Systemic Toxicity"; and USP Class VI.
For enquiries, email info-asia@kraiburg-tpe.com. - (Press Release)
(PRA)
---
Subscribe to Get the Latest Updates from PRA Please click here
©2020 Plastics and Rubber Asia. All rights reserved.
©2020 Plastics and Rubber Asia. All rights reserved.
Home
Terms & Conditions
Privacy Policy
Webmail
Site Map
About Us
SOCIAL MEDIA