Recycling: BASF to recycle mattresses, Repsol and SP Berner offer furniture made of PCR plastic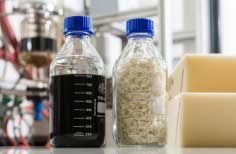 Germany-based chemical firm BASF says it has developed a chemical recycling process for used mattresses and is starting pilot tests at the Schwarzheide site in Brandenburg, Germany. The materials from old mattresses are to be recycled in such a way that they can be used for the production of new mattresses. In doing so, BASF says it is breaking new ground and responding to the raised expectations regarding sustainability of the foam and mattress industry as well as those of consumers. It is an important step to possibly re-enter post-consumer waste back into product lifecycles.
BASF's process breaks down the flexible polyurethane (PU) and delivers the initially used polyol. From there it can produce new foam with a significantly lower carbon footprint. "It makes projects of that nature quite attractive because, while mattresses are easy to collect and to sort out, at the end of their lifecycle they currently end up being either incinerated or in a landfill," explains technical project manager Arno Volkmann. First volumes of the recycled material will be delivered to project partners later this year to develop pilot projects together.
With the new process, BASF says it is stepping up its efforts to increase sustainability and takes one step further toward a circular economy.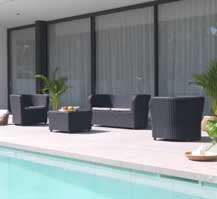 Meanwhile, in other news, SP Berner and materials maker Repsol have teamed up to offer consumers a range of sustainable furniture. The Set Nova terrace set incorporates a 50% post-consumer recycled (PCR) plastic in its composition.
In this sense, Repsol within its Repsol Reciclex range has developed the formulation of the new Repsol Reciclex 50RXPB171 polypropylene (PP) specially designed for injection moulding applications. The material is formulated as a PP base compound, with half of its raw material coming from mixed plastic waste, to give it a new life. Repsol has managed to ensure the technical properties required for the application, offering impact resistance properties.

In its commitment to innovation and to offering high-quality products made from recycled plastic, SP Berner shares with Repsol its experience in converting and adding value to these kinds of circular items in technical applications and the creation of new product ranges for its value chain.
The companies say partnerships of this type are essential to promote the circular economy and offer society products that, as in this case, will allow the enjoyment of furniture made from materials that incorporate recycling without the clients perceiving changes in their properties and making them participants in responsible and circular consumption.
(PRA)
---
Subscribe to Get the Latest Updates from PRA Please click here
©2020 Plastics and Rubber Asia. All rights reserved.
©2020 Plastics and Rubber Asia. All rights reserved.
Home
Terms & Conditions
Privacy Policy
Webmail
Site Map
About Us
SOCIAL MEDIA