TPEs making waves in diving, extreme sports equipment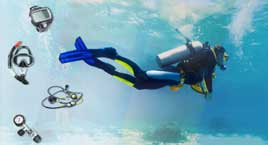 Engaging in diving and other recreational underwater sports is on almost everyone's bucket list. Scuba diving is not only for the enjoyment of underwater vista, it also provides therapeutic, rehabilitative and physical workout benefits, as well as enhancing awareness on the underwater ecosystem and caring for the environment.
For an optimum underwater experience, essential diving gear must provide adequate protection against extreme temperatures; be able to withstand underwater pressure; be lightweight and fit comfortably.
Thermoplastic elastomer (TPE) materials meet the requirements in the manufacture of dynamic diving equipment and gear. These include flexibility, durability, versatility in design and colorization, safety, recyclability, and more.
Kraiburg TPE's innovative Thermolast K TPE is just the perfect compound ideal for diving equipment applications.
Right fit for underwater gear
The global TPE manufacturer's select Thermolast K TPE compounds have excellent UV and weather resistance that suit a diverse range of diving equipment components. The compounds can be used to manufacture diving masks, fins, regulators, gloves, dive computers, snorkels, underwater lights and more, all of which are constantly exposed to sunlight and sea water.
In addition, the TPE range is sebum-resistant for applications requiring a firm but user-friendly grip; and excellent sealing for gaskets and sealing applications.
Easy processability of compounds
Thermolast K TPE is also suitable for underwater diving lamp applications, whereby the housing is molded from PP and overmoulded with the TPE cover and seal.
Diving regulators can have a TPE cover that provides a moulded-in seal and weight reduction. Since the regulator is smaller, it allows the diver to breathe easily.
For diving fins, the TPE compounds add a springy touch. The diver requires less energy to flap through water and it improves a diver's speed. The compounds also provide the perfect sealing in watercraft dry compartments.
Multifunctional solution for superb overall design
Kraiburg TPE's innovative TPE compounds provide consistent colourability and excellent mechanical properties to deliver the custom requirements of product designers and developers. Meanwhile, end users can benefit from the specialized fit, feel and look of the products.
Some of the recommended TPEs in the Thermolast K are the GP/FG and the FC/CS compounds.
The GP/FG series has a soft touch surface and non-sticky haptic feel. It is suitable for applications like diving fins, tank bankers, etc. Meanwhile, the FC/CS series has an excellent compression set, which is important for diving equipment, especially since underwater pressure is high. Its soft touchsurface and hysteresis makes the compound suitable for applications such as diving masks, diving computers, diving gloves, and more.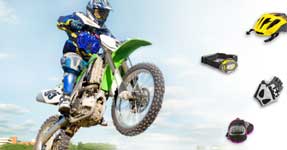 TPEs are also stepping up the game in extreme sports equipment

Extreme sports showcase the limitless reach of the mind and body, and not only appeal to thrill seekers and adventure-driven people, but also regular people who wish to unplug from their daily mundane routines, to explore beyond their comfort zones.
The activities encompassing extreme sports range from cave diving, to jet skiing, surfing, skydiving and boxing, all of which involve a high degree of risk and speed.
The adrenaline rush attained from extreme sports is one reason why participation is growing and has driven demand for highly specialised sports equipment.
With exceptional properties to deliver durability, versatility, ease of colouring and soft-touch feel quality, TPEs, such as Kraiburg's Thermolast K compounds, are the right fit for improved functionalities and safety of use of sports equipment.
Best fit for sports equipment
The Thermolast K series is most fitting for sports equipment applications, with the end user benefitting from the specialised fit, feel and look of the end products.
The series features low temperature resistance down to -40°C. The compounds have excellent mechanical properties too.
Moreover, this scratch-resistant series features water and weather resistant properties, making it suitable for use in sports equipment applied in extreme weather conditions.
The good abrasion properties of the series are important for equipment like snow rockets hand handle and ski stick grips.
Furthermore, the compound's hardness ranges from supersoft (<10 shore A) up to 50 shore D; and it hasdurability and versatility, allowing it to be widely used in extreme sports equipment.
The Thermolast K compounds are suitable for use in various parts of sports equipment, such as surfboard pads, mouth guards used for boxing, helmets, knee pads, dampers for ski binding, head lamp seals, goggle strips, etc.
Processing advantages
Apart from its advantageous properties, the Thermolast K series has been optimised for the extrusion process, such as film extrusion. It can also be processed through injection moulding, processing a wide range of thermoplastic materials such as PP, ABS, PC, PC/ABS, PCT, ASA, SAN, PMMA, PET and others.
The environmentally-friendly series of compounds are free of latex, PVC, phthalates and heavy metals and are recyclable, too.
Overall, product designers will marvel the flexibility and versatility of the compounds that allow for ergonomic and complex designs of sports equipment parts. The consistent colourability adds to the enhanced appearance the TPEs provide to end products. (Press Release)
(PRA)
---
Subscribe to Get the Latest Updates from PRA Please click here
©2020 Plastics and Rubber Asia. All rights reserved.
©2020 Plastics and Rubber Asia. All rights reserved.
Home
Terms & Conditions
Privacy Policy
Webmail
Site Map
About Us
SOCIAL MEDIA