Coperion extruder used in production of biomaterial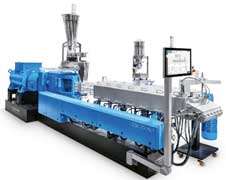 Swedish innovation company RenCom AB has chosen Coperion's twin-screw extrusion system to enable the production of Renol, a thermoplastic biomaterial that can be used to replace fossil-based plastics. Following comprehensive studies in Coperion's extrusion test lab in Stuttgart, Germany, RenCom and Coperion were able to further develop the processing of this lignin-based material and transform it into durable, reusable biomaterial by using the ZSK twin-screw extruder technology. RenCom will be able to produce up to 1,000 tonnes/year of Renol starting late 2020.
RenCom has a patented material and process that energy-efficiently transforms lignin into renewable, degradable biomaterial that can replace fossil plastics, marketed under the name Renol. Passing different process steps, including extrusion and compounding, Renol becomes a durable, reusable biomaterial that can be used for all kinds of plastic products, such as bags and glues. It can be used directly in existing production infrastructure without any modifications to machines or methods.
Coperion has in cooperation with RenCom designed a complete extrusion system comprising a ZSK co-rotating twin screw extruder, gravimetric feeders, a strand pelletising system, a lignin bag dump station and a big bag station to RenCom. The ZSK Mv PLUS series unites an optimally balanced large free screw volume with high screw speeds and a high specific torque. Thanks to the deeply cut screw flights thermal stress on the raw material is low and product processing is gentle. By using the side feeder ZS-B, fillers and additives can be added to the process section according to the requirements of the end product.
The complete system will be delivered in October.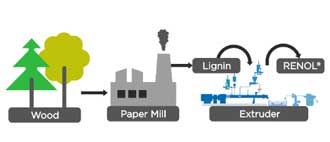 The comprehensive studies in Coperion's test lab and the realisation of the demo system for the production of Renol is seen as the beginning of a successful partnership between RenCom and Coperion.
Peter von Hoffmann, General Manager Business Unit Engineering Plastics & Special Applications at Coperion: "We are proud to supply extrusion process know-how and technology for such a future generation of biomaterial like Renol."
Christopher Carrick, RenCom's CEO, adds: "We at RenCom are very happy to announce the partnership with Coperion. It is a fundamental key stone in our progress to supply our innovative material to a broad audience and to enter the market as early as beginning of 2021. Working with the best of its kind is particularly important as Coperion is the world leader in the field of extrusion and process engineering perfection. We are excited to further develop this partnership!"
(PRA)
---
Subscribe to Get the Latest Updates from PRA Please click here
©2020 Plastics and Rubber Asia. All rights reserved.
©2020 Plastics and Rubber Asia. All rights reserved.
Home
Terms & Conditions
Privacy Policy
Webmail
Site Map
About Us
SOCIAL MEDIA