Ineos to acquire BP's PET feedstock unit for US$5 bn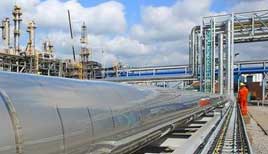 UK-headquartered petrochemical firm Ineos Group has announced its intention to acquire petrochemical firm BP's global Aromatics and Acetyls business for a consideration of US$5 billion: US$4 billion will be payable upon completion with the remaining US$1 billion deferred until, at the latest, June 2021.
The aromatics business is a global leader in PTA (purified terephthalic acid) and PX (paraxylene) technology with six sites and supplies the global polyester business which includes polyester fibre, film and PET packaging. The business's largest manufacturing plants are in China, the US, and Belgium, and it licenses its leading PTA production technology to producers around the world.
The acetyls business produces acetic acid and derivatives.
The acetyls business with nine sites produces acetic acid and a range of derivatives such as acetic anhydride, which have uses in a range of a wide range of downstream industries such as food, pharmaceuticals, paints, adhesives and packaging. It has a diverse base with manufacturing plants in the US, UK, China, Korea, Taiwan, and Malaysia. The sale will also include related interests such as the chemical recycling technology BP Infinia and BP's interest in acetylated wood developer Tricoya.
The business consists of 15 sites across the world (five in the Americas, two in Europe and eight in Asia) as well as ten joint ventures. In 2019, they produced 9.7 million tonnes of petrochemicals.
Ineos says the deal is a good fit with its existing asset base, reintegrating the Hull, UK, site and expanding the existing footprint at Geel, Belgium.
Sir Jim Ratcliffe, Founder/Chairman of Ineos said, "We are delighted to acquire these top-class businesses from BP, extending the Ineos position in global petrochemicals and providing great scope for expansion and integration with our existing business."
He added, "This acquisition is a logical development of our existing petrochemicals business extending our interest in acetyls and adding a world leading aromatics business supporting the global polyester industry."
According to BP CEO Bernard Looney, the overlap of the petrochemicals business with the rest of BP is limited and would take considerable capital to grow. "As we work to build a more focused, more integrated BP, we have other opportunities that are more aligned with our future direction. Today's agreement is another deliberate step in building a BP that can compete and succeed through the energy transition," said Looney.
Ineos has more than 180 sites in 26 countries and employs around 22,000 staff worldwide. Over the past two decades, Ineos has acquired a number of businesses from BP, including the US$9 billion purchase of Innovene in 2005, the BP subsidiary that comprised the majority of BP's then chemicals assets and two refineries.
(PRA)
---
Subscribe to Get the Latest Updates from PRA Please click here
©2020 Plastics and Rubber Asia. All rights reserved.
©2020 Plastics and Rubber Asia. All rights reserved.
Home
Terms & Conditions
Privacy Policy
Webmail
Site Map
About Us
SOCIAL MEDIA