M&As: Mitsubishi Chemical acquires European carbon fibre recyclers; Indorama buys Polish recycler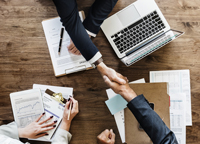 Mitsubishi Chemical Advanced Materials says that it has acquired the assets of two German carbon fibre recycling companies - CFK Valley Stade Recycling GmbH and Co. KG (CFK) and carboNXT GmbH. These strategic acquisitions are part of the vertically integrated company's circular economy approach to business.
With its own network to collect carbon fibre waste products, CFK has built a reputation as a solutions provider for customers in mobility-related industries. Another competitive advantage that CFK offers is their advanced proprietary technology that breaks down carbon fibre waste, and converts this material into various usable forms of carbon fibre. In turn, carboNXT sells these CFK-recycled products back into the market, which closes the circular loop.
Recently Mitsubishi Chemical acquired c-m-p GmbH, a carbon fibre prepreg manufacturer, as well as the Minger Group, an engineering plastics recycling company. With this latest acquisition of CFK and carboNXT, Mitsubishi Chemical says it is now well-equipped to support the lifecycle of carbon fibre from creation, to re-use, and to re-sale. Furthermore, the company has a variety of composite materials in its portfolio that will benefit from recycled carbon fibre.
Ron Denoo, Chief Strategy and Technology Officer at Mitsubishi Chemical Advanced Materials agrees that, "This acquisition enables us to fully extend our position in the carbon fibre market, by providing a sustainable solution to a major problem in today's production environments - manufacturing waste and end of life parts. We are excited to bring this to our customers, and to help them realize the benefits of using recycled materials and contents in their products."
Tim Rademacker, President of CFK and carboNXT, added that "This announcement marks another important step in our success story. Customers, employees, and stakeholders will benefit from Mitsubishi Chemical Advanced Materials' Global reach and experience, and CFK/carboNXT will continue its focus on providing innovative carbon fiber composite solutions to Global mobility markets, and beyond."
Mitsubishi Chemical Corporation (MCC) has already experienced a significant amount of success employing a similar model in Japan where it has been recycling carbon fibre through its subsidiary, Shinryo Corporation. In the future, MCC will offer total turnkey solutions that include waste recycling to customers by using recycled products as raw materials within the group.
Meanwhile, Thailand-headquartered integrated PET supplier Indorama Ventures Public Company Limited (IVL) has entered into a definitive agreement to acquire Industrie Maurizio Peruzzo Polowat spółka z ograniczoną odpowiedzialnością (IMP Polowat), a PET recycling facility in Poland. The acquisition consists of two assets, strategically located in Bielsko-Biala and Leczyca, close to the major population centers of Kraków and Warsaw. The production sites have a combined capacity of 23,000 tonnes of recycled PET (rPET) flakes and 4,000 tonnes of rPET pellets. The company is supported by 118 employees.
The acquisition is expected to close in the third quarter of 2020, subject to regulatory approvals.
IMP Polowat has a presence as one of the leading PET recyclers in Poland. This acquisition is consistent with IVL's ambitious target in scaling its recycling capacity to reach 750,000 tonnes by 2025. It also adds an attractive recycling platform for IVL in Eastern Europe, and will open up new opportunities to meet the increasing rPET demand for more sustainable packaging solutions. The combination of access to local bottle supply and trusted product quality will secure opportunity for IVL for growth and expansion over time.
Poland is a strategic market for IVL, and has made significant progress on waste management and recycling. With 260,000 tonnes of PET bottle consumption in Poland, and active discussion about a Deposit Return Scheme and improved collection, there is a significant opportunity to increase capacity and capitalize on the growing demand for rPET.
Yashovardhan Lohia, Executive Director and Head of Sustainability of Indorama Ventures, said, "We are pleased to continue to execute on our growth strategy of pursuing strategic acquisitions even during this unprecedented time. IMP Polowat represents a strategic fit for us. Indorama Ventures' commitment to the Polish market goes back to 2011, when we acquired an integrated PET asset in Wloclawek. With the acquisition of IMP Polowat we are adding a recycling facility to bring synergies and a circular business model to our Polish operations."
He added, "IVL is fully committed to its strategy and its role in addressing the issue of plastic waste and enhancing the circularity of PET. We continue to make good progress and remain confident in achieving our ambitious 2025 target to recycle at least 50 billion bottles/year, and investing US$1.5 billion to achieve this by 2025."
(PRA)
---
Subscribe to Get the Latest Updates from PRA Please click here
©2020 Plastics and Rubber Asia. All rights reserved.
©2020 Plastics and Rubber Asia. All rights reserved.
Home
Terms & Conditions
Privacy Policy
Webmail
Site Map
About Us
SOCIAL MEDIA