TPEs with food contact approval, perfect for skin and mouth contact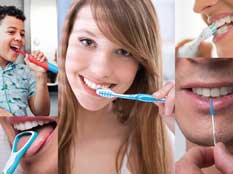 TPEs with food contact approval, perfect for skin and mouth contact
From toothbrushes to teething rings – many manufacturers of products for dental and oral hygiene are today specifying materials that have been approved for food contact in order to also ensure that they are highly non-irritant for skin and oral applications. Kraiburg TPE, a global manufacturer of thermoplastic elastomers, not only offers a complete portfolio of thermoplastic elastomers (TPEs) with the relevant conformities, but also provides the expertise necessary for developing application-specific and customer-specific formulations. New compounds with excellent adhesion to polyamides complement the offer.
The requirements for TPEs intended for sophisticated dental and oral hygiene products range from cost-effective processing combined with good flow characteristics through to resistance against specific ingredients in care products. It goes without saying that the compounds have good organoleptic properties and are non-irritant for skin and oral applications. In addition, they provide reliable adhesion to "hard" plastics for multicomponent applications, with pleasant touch characteristics and good grip.
"Based on our well-established customer focus and many years of experience in the market, we have continuously diversified our product mix, so that we are now offering several TPE series that comply with food safety regulations and can be specifically tailored to address special application requirements," says Lars Goldmann, Head of Sales Consumer at Kraiburg TPE. "These also include UL-listed formulations for components that come into contact with lithium-ion batteries, as required for electric toothbrushes."
Kraiburg TPE's Thermolast K branded compounds meet requirements of the food and drug administration specified by Regulation (EU) 10/2011. The TPE specialist also provides compounds that comply with the Chinese GB 4806 regulations for food safety of materials. In addition, the range of types with food contact (FC) approval that show excellent peel strength and adhesion to hard thermoplastics has been expanded to include polar plastics. New in the portfolio:
• FC/AD/PA series with outstanding tensile strength, elongation at break and wear resistance specially for multicomponent applications with polyamides (PA6, PA6.6 and PA12)
• FC/AD1 series for composites with polyesters such as PET or PETG, polycarbonates, and ABS plastics, as well as blends of these materials.
Typical applications of Kraiburg TPE's compounds for the dental and oral hygiene market include manual and electric toothbrushes, interdental sticks and tongue cleaners, baby teething rings, soothers, teats for baby bottles, and also razors and electric shavers. Along with the new compounds with adhesion to polar plastics, the overall portfolio of Thermolast K materials for this wide range of applications comprises four other established series suitable for composites with polyolefinic materials such as PP:
• FC series with optimised cost-performance ratio and high flowability
• FC/ht series for high transparency and outstanding depth effect of brilliant colours or effect pigments
• FC/CS series with very good compression set, optimised chemical resistance (against mouthwash, special toothpastes, etc.) and enhanced mechanical strength – also suitable for bite-resistant baby teething rings
• FC/HE/tl series for applications in translucent colours requiring extra high elasticity
• These series are complemented by a wide variety of custom-engineered TPE compounds based on them, which are intended to meet individual requirements in special cases, such as cyclic load capacity (very long durability) or low tackiness. All of the materials can be coloured individually and precisely – even effect colours and various transparent hues are possible. Precoloured compounds are also available upon request.
In addition, Kraiburg TPE ensures constant product quality in its materials with food contact approval by consistently tracing the raw materials used. This means that during selecting and purchasing of the raw materials, attention is already paid to whether the suppliers meet the requirements in relation to food contact and biocompatibility. Furthermore, as recyclable materials, the TPE compounds meet the sustainability criteria of a raw material-efficient and environmentally friendly recycling economy.
"Kraiburg TPE sees itself as an innovative and reliable service partner for its customers, helping them to meet enhanced requirements and open up new sales opportunities by providing cost-effective and tailor-made thermoplastic elastomers," emphasises Mr Goldmann. "Our comprehensive and flexible TPE portfolio for the dynamic dental and oral hygiene market underlines this commitment."
The originally planned presentation of the new TPE series for dental and oral hygiene products at the Interbrush in May has been cancelled as the trade fair has been postponed by two years due to the Corona pandemic. However, the materials will be available worldwide from summer 2020 as planned. (Press Release)
(PRA)
---
Subscribe to Get the Latest Updates from PRA Please click here
©2020 Plastics and Rubber Asia. All rights reserved.
©2020 Plastics and Rubber Asia. All rights reserved.
Home
Terms & Conditions
Privacy Policy
Webmail
Site Map
About Us
SOCIAL MEDIA