Recycling: Carbios/TechnipFMC to build demo recycling plant; APK invests EUR1 mn in analytic facility for recycling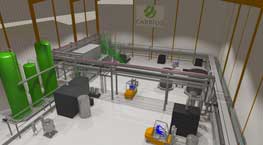 French green chemistry firm Carbios and TechnipFMC have announced that TechnipFMC's operating centre in Lyon, France, will be assisting Carbios to build a plant that demonstrates Carbios' Enzymatic Recycling Process.
The technology uses proprietary enzymes to recycle waste PET (polyethylene terephthalate) plastics into monomers ready for repolymerisation into PET with the same technical and physical properties as virgin PET. This collaboration is an important step in the demonstration of the technology and potential future commercialization.
TechnipFMC will provide advisory, engineering, procurement and construction supervision services for this plant, which will be located close to Lyon. Construction will start later this year with first operations expected to begin in 2021.
Jean-Claude Lumaret, CEO of Carbios, noted "This agreement, which will leverage both parties' expertise, supports our common vision to enhance the sustainability of the plastic industry. Carbios' technology has proven to be a superior process that efficiently recycles all PET-based plastics. To ensure its implementation at large-scale, it is key for operators to gain insights into operational conditions. Our collaboration with TechnipFMC aims to address this need through a demonstration plant."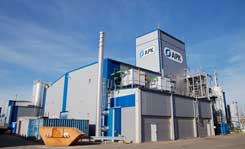 Meanwhile in other news, German recycling company APK, which offers the Newcycling recycling technology, has completed its new laboratory at its production site in Merseburg (Germany). Initially, the facility will focus on LDPE and polyamide-recyclates, which are to be used in packaging applications. APK AG has invested over EUR1 million in the comprehensive equipment.
With its laboratory and wide-ranging in-house testing capacities, APK says it is uniquely positioned within the recycling industry. The R&D team of APK surrounding Dr. Jürgen Flesch, Chief Technology Officer, and Hagen Hanel, Director R&D, will drive the development of process technology of plastics recycling, as well as the conception of new, solvent-based recycling facilities.
Project partners of APK will benefit from the ample testing options in the future. Mechanical test values as well as optical, physical and rheological properties can be examined in-house from now on. Corresponding service packages will be available to interested companies from the packaging and plastics value chain in the near future.
The laboratory features the following testing equipment: Melt-Flow-Indexer, Differential Scanning Calorimetry analysis (DSC), Universal Tensile Testing Machine, Pendulum Impact Tester, Injection Molding Machine, heatable Microcentrifuges, IR-Microscope, IR-Spectrometer, High-Temperature Size Exclusion Chromatography (HT-SEC), as well as a Spectral Photometer for colour testing.
Testing will be conducted according to existing norms such as the DIN EN ISO 527-1 for the testing of tensile properties of plastics. Furthermore, the APK team has gained comprehensive experience in the development of methods and criteria as not all process and product-specific tests are backed by ISO and EN norms yet.
High quality recycling of plastics plays a key role in the recently published EU Green Deal of the European Commission as well as in the corresponding new Circular Economy Action Plan. With its ambitious investment into the new analytic facility, APK says it reinforces its dedication to closing material cycles for all kinds of plastics and applications.
(PRA)
---
Subscribe to Get the Latest Updates from PRA Please click here
©2020 Plastics and Rubber Asia. All rights reserved.
©2020 Plastics and Rubber Asia. All rights reserved.
Home
Terms & Conditions
Privacy Policy
Webmail
Site Map
About Us
SOCIAL MEDIA