Expansions: Mitsui Chemicals expands output for meltblown nonwovens; Dow invests US$300 mn in silicones in China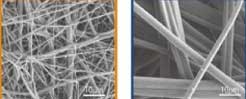 Japanese firm Mitsui Chemicals says it has expanded its production facilities for meltblown nonwovens at wholly owned subsidiary Sunrex Industry Co., starting operations at the new facilities here this January. The move comes as an effort to respond to growing demand for industrial-use meltblown nonwovens, and will increase the Mitsui's overall production capacity for these materials by 50%.
Mitsui Chemicals says it is positioning its nonwovens business as a growth sector, making efforts here to supply high-quality nonwovens as industrial materials for a variety of applications. This includes use in car seats (product name: TAFNEL™), masks (product name: SYNTEX™) and agricultural sheets (product name: SYNTEX™). With particular respect to SYNTEX™ MB nano, marketing efforts are going toward use in filters and other such applications that will take advantage of the meltblown nonwovens line's superfine fibers, which are no more than several hundred nanometers in diameter.
Through this latest facility expansion, Mitsui Chemicals plans to further bolster and grow its business for nonwovens going forward.
Meanwhile, US chemical firm Dow has had a Memorandum of Understanding (MoU) for collaboration with the Zhangjiagang Free Trade Zone in Jiangsu province, China. By facilitating expansion at Dow's signature manufacturing site in Zhangjiagang with potential investments of US$300 million in the next five years, the MoU intends to increase Dow's capacity to meet growing global demand for silicone intermediates and finished products, enhancing the company's ability to collaborate and deliver innovative solutions with customers.
"Due to megatrends such as globalization, urbanization, and a growing focus on sustainable development, customers across industries are seeking more innovative, sustainable, and differentiated silicone products—especially customers in China and the Asia Pacific region," said Mauro Gregorio, President of Dow Performance Materials & Coatings. "With the low-risk, high-return investment plan for the next five years outlined in the agreement, we are well positioned to help customers grow and succeed by addressing their fast-growing needs across a wide range of key industries, such as mobility and transportation, building and infrastructure, electronics, and home and personal care."
Through these planned investments, Dow says it aims to further develop its silicone intermediates and downstream portfolio, ranging from silicone fluids to adhesives and sealants. The Zhangjiagang Free Trade Zone will facilitate Dow's planned expansion by supporting the company through infrastructure and other services. Meanwhile, Dow intends to share manufacturing best practices with local authorities to improve overall safety and environmental performance in the Free Trade Zone.
"The MoU we are signing today is a testament to our long-standing commitment to growing alongside the city of Zhangjiagang and our partners in China," said Yoke Loon Lim, President of Dow Greater China, who signed the MoU on behalf of Dow. "We view China as a rapidly growing market and the planned investments reflect our confidence in this view. The MoU will enhance Dow's ability to provide innovative materials science solutions to customers in China and across the broader Asia Pacific."
(PRA)
---
Subscribe to Get the Latest Updates from PRA Please click here
©2020 Plastics and Rubber Asia. All rights reserved.
©2020 Plastics and Rubber Asia. All rights reserved.
Home
Terms & Conditions
Privacy Policy
Webmail
Site Map
About Us
SOCIAL MEDIA