Covid-19: Mercedes F1/UCL build new breathing aid; Italian company fashions ventilator masks from snorkels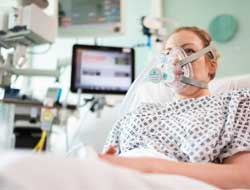 With the UK in a race to provide the necessary healthcare required as Covid-19 cases in the country increase, University College London (UCL) and Mercedes Formula One engineers have developed a breathing aid to deliver oxygen to the lungs without the need for invasive mechanical ventilation and help keep Covid-19 patients out of intensive care.
The UK Medicines and Healthcare products Regulatory Agency (MHRA)-approved device "will help to save lives by ensuring that ventilators, a limited resource, are used only for the most severely ill," according to UCLH critical care consultant Professor Mervyn Singer.
The engineers fashioned the new breathing aid by modifying a simple existing device: they took apart an existing CPAP (Continuous Positive Airway Pressure) device, improved the design and adapted it for mass production. A CPAP device pushes a steady flow of air-oxygen mix into the mouth and nose of patients. This reduces the effort needed to breathe in, especially when the thin air sacs in the lungs have collapsed due to the coronavirus, for example.
A CPAP device is also less invasive than a ventilator, for which patients have to be heavily sedated and have a tube inserted into their airway. Unfortunately, conventional CPAP machines are in short supply in hospitals.
Early reports from Lombardy, Italy, suggest about 50% of Covid-19 patients given CPAP have avoided the need for invasive mechanical ventilation; more than 2,000 patients are receiving CPAP in Lombardy.
Now, 40 of the new CPAP devices have been delivered to ULC Hospital and to three other London hospitals. If trials go well, up to 1,000 of these can be produced daily by Mercedes-AMG-HPP, beginning in a week's time.
Professor Singer assured that if a tight seal is maintained around the mask or, even better, a helmet is worn, and clinical staff have adequate personal protective equipment (PPE) then this risk would be minimised.
Andy Cowell, Managing Director of Mercedes-AMG High Performance Powertrains, said: "The Formula One community has shown an impressive response to the call for support – we have been proud to put our resources at the service of UCL to deliver the CPAP project to the highest standards and in the fastest possible timeframe."
Meanwhile, a UK consortium has brought together innovative UK industrial, technology and engineering businesses, such as Airbus, BAE Systems, Ford, Rolls-Royce, and Siemens, to produce medical ventilators for the National Health Service. The companies in the consortium have received orders for more than 10,000 ventilators from the government, with production due to begin next week, although approval is still pending.
Italian firm fashions ventilator valves from snorkels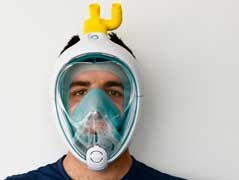 In related news, after Italian innovation firm Isinnova successfully saved lives by 3D printing ventilator valves in Italy, CEO Cristian Fracassi and engineer Alessandro Romaioli had been approached by many 3D-printing companies that wanted to join in and help. Several countries wanted to use similar technology. But one call by a former head physician of the Gardone Valtrompia Hospital, Dr. Renato Favero, has started a whole new project for Isinnova located in Brescia, in northern Italy.
With the shortages for CPAPs, Favero proposed making an "emergency ventilator mask" by modifying snorkelling masks that are readily available in the market.
The teams contacted Decathlon, the French sporting goods retailer that supplies the Easy Breath Surface Snorkelling Mask. Isinnova said that Decathlon immediately provided the 3D computer-aided design for the mask, so that engineers could easily evaluate what modification could be made.
"A new component was then designed to guarantee the connection to the ventilator. We called the link Charlotte valve, and we quickly printed it using 3D printing," said Romaioli.
Unlike the full ventilators, that breathe both in and out for a patient, Romaioli explained that these CPAP machines regulate the pressure and level of oxygen that go into the lungs.
From start to finish, the project took only three days, Romaioli said, after analysing, measuring, 3D printing and testing various options.
The prototype was tested on Romaioli directly inside the Chiari Hospital, connected to the ventilator body, and was proven to be correctly working. The hospital itself was enthusiastic about the idea and decided to test the device on a patient in need. The testing was successful and they provided 100 3D-printed ventilator valves. Doctors tested the re-worked mask on multiple patients, to be sure that it could be useful.
Isinnova 3D-printed about 50 of the pieces needed to alter the mask into a CPAP machine, but Isinnoa pointed out that many other 3D-printing companies joined the fight and now about 1,000 new machines have been developed.
Isinnova is also freely sharing the file for 3D printing. It says, "Unlike the respirator valve, the link is easy to make, so it is possible for all makers to try to print it correctly."
Further information is available here: https://www.isinnova.it/easy-covid19-eng/
(PRA)
---
Subscribe to Get the Latest Updates from PRA Please click here
©2020 Plastics and Rubber Asia. All rights reserved.
©2020 Plastics and Rubber Asia. All rights reserved.
Home
Terms & Conditions
Privacy Policy
Webmail
Site Map
About Us
SOCIAL MEDIA