Circular economy: Sekisui/INCJ jv for waste-to-ethanol; Denka to chemically recycle PS waste


Japan's Sekisui Chemical Co and INCJ have established a joint venture (jv) called Sekisui Bio Refinery Co. with the aim of verification and commercialisation of the technology converting combustible waste into ethanol using the microbial catalyst jointly developed by Sekisui Chemical and US start-up LanzaTech (the BR ethanol technology). INCJ is a public/private sector fund supervised by Japan's Ministry of Economy, Trade and Industry.
Sekisui's work with LanzaTech to process unsorted unrecyclable waste into ethanol was first announced in 2017. Since then, Sekisui has recruited partners and investigated business models by utilising project supported by Japan's Ministry of the Environment (Carbon Cycle Society Model Demonstration Project) in order to achieve the practical implementation and commercialization of this technology.
Sekisui is also working on chemical recycling and waste-utilisation projects with Muroran Institute of Technology and Sumitomo Chemical, on projects related to catalytic recycling, and a process that produces polyolefins from waste materials, respectively.
For the jv to conduct the final stages of verification of BR ethanol technology for future implementation and commercialisation, a verification plant will be established in Kuji City, Iwate. It is planned that operation for verification project will start at the end of fiscal 2021.
At the verification plant, approximately one tenth (approx. 20 tonnes/day) of the volume of municipal solid waste processed at a standard-scale waste disposal facility will be received from an existing waste disposal facility and then used as a raw material to produce ethanol. Partners such as local municipalities, waste disposal-related companies and plant manufacturers will be widely recruited.
Ethanol produced at the verification plant will be supplied to many companies in various industries that are interested in this technology for the assessment of the use of the ethanol in various products and businesses. Through these initiatives, the jv aims to achieve full-scale commercialisation of BR ethanol technology.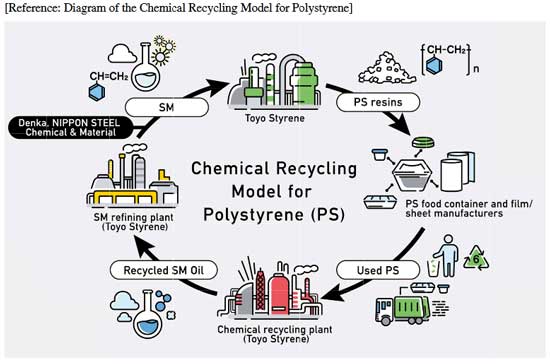 Meanwhile in other news, Denka Company affiliate Toyo Styrene is to start a business for chemical recycling of waste polystyrene (PS). The firm has signed a technology license agreement with US-based Agilyx, a plastic recycling company, to establish a business for the chemical recycling of used PS.
Toyo Styrene will start the detailed examination for the construction of a demonstration facility (processing capacity: approx. 3,000 tonnes/year) to pyrolytically decompose used PS and generate the raw material, styrene monomers (SM), in Denka's Chiba Plant (Ichihara, Chiba), and aims to begin operation at the end of fiscal 2021.
The conventional plastic recycling method, which involves material recycling by grinding and re-melting used plastic and moulding it into products, has partial limitations, especially for use in food-related containers.
Denka says the method used in its project employs the chemical recycling method that exploits the property of styrene-based resins that exhibits easy pyrolysis from polymers to monomers, and is innovative in terms of no limitation in application of polystyrene produced from recycled styrene monomers.
Furthermore, this method will make it possible to halve CO2 emissions, in comparison with regular production methods.
Denka adds it will fully support Toyo Styrene's chemical recycling business and work collaboratively with governmental agencies and related organisations.
"This announcement marks our formal entrance into the Asian markets to deliver circular pathways for plastics," stated Joe Vaillancourt, CEO of Agilyx. "We are excited to be working with a group that shares our mission of reducing the impact on the global environment by increasing recycled content in new products while reducing the dependency on virgin material. Toyo Styrene has been a leader in developing eco-friendly products for the efficient use of plastics."



(PRA)
---
Subscribe to Get the Latest Updates from PRA Please click here
©2020 Plastics and Rubber Asia. All rights reserved.
©2020 Plastics and Rubber Asia. All rights reserved.
Home
Terms & Conditions
Privacy Policy
Webmail
Site Map
About Us
SOCIAL MEDIA