Carbios, Novozymes tie up to produce proprietary enzyme for complete PET recycling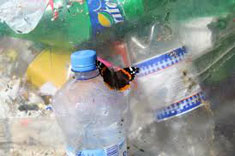 Researchers at Carbios, a French company pioneering new bio-industrial solutions to reinvent the lifecycle of plastic and textile polymers have created a mutant bacterial enzyme that can break down plastic bottles for recycling in only a couple of hours.
Partnering with Denmark-headquartered biological solutions company, Novozymes, Carbios will be securing its production of the proprietary PET-degrading enzymes at both a demonstration level and an industrial scale. The agreement also represents a critical step for Carbios in demonstrating the positive environmental impact of its technology and ensures it can provide its future customers with a sustainable solution for the infinite recycling of PET-based products, such as water and soda bottles, plastic packaging and textiles.
According to Carbios CEO, Jean-Claude Lumaret, the new deal is preceded by a collaboration on PLA biodegradation with Novozymes that began in January 2019.
Carbios, which has developed a biology-based solution which uses enzymes to break down widely used PET plastics and fibres, will launch the construction of a demonstration plant for the recycling of PET-based plastics and polyester fibres this year. The first operations are expected to begin in 2021, prior to a large-scale industrial deployment.
(PRA)
---
Subscribe to Get the Latest Updates from PRA Please click here
©2020 Plastics and Rubber Asia. All rights reserved.
©2020 Plastics and Rubber Asia. All rights reserved.
Home
Terms & Conditions
Privacy Policy
Webmail
Site Map
About Us
SOCIAL MEDIA