Covid-19: Nova Chemicals pauses construction on PE/cracker expansions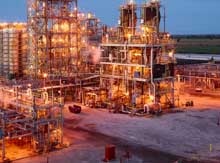 Canada-headquartered chemical firm Nova Chemicals has implemented measures within its sites, including pausing construction activities on its expansion plans, though it says that "manufacturing sites remain operational and there are currently no impacts on our supply chains", since the chemical industry has been deemed essential.
Construction work on its new AST2 polyethylene (PE) facility and Corunna cracker expansion projects in Ontario will temporarily focus on only the most critical work, which will result in a reduction of approximately 90% of its total construction workforce. The expansion plans were confirmed in 2017, to invest C$2 billion to expand capacity on its Corunna cracker at Sarnia, Ontario, by 50% and to build a 450,000-tonne/year PE plant based on the company's Advanced Sclairtech technology. Completion was expected by 2021. The Corunna cracker currently has 816,000 tonnes/year of ethylene capacity.
It adds, "It is too early to say what impact Covid-19 will have on our overall construction schedule, and a phased ramp-up will be considered at the appropriate time to allow for the safe completion of construction activities."
Commissioning and construction activities on its furnace refurbishment project in Alberta have been paused and Nova says "it is too early to say when construction will commence. We will continue to monitor the situation and make decisions based upon business conditions."
Nova operates four linear low-density polyethylene (LLDPE) lines with a capacity of 1.482 million tonnes/year and a 50,000-tonne/year high-density polyethylene (HDPE) line at Joffre, Alberta. It also has two ethylene facilities at Joffre.
It reiterated, "The health and safety of our employees, contractors and community remains a top priority for Nova Chemicals as we navigate the Covid-19 pandemic."
(PRA)
---
Subscribe to Get the Latest Updates from PRA Please click here
©2020 Plastics and Rubber Asia. All rights reserved.
©2020 Plastics and Rubber Asia. All rights reserved.
Home
Terms & Conditions
Privacy Policy
Webmail
Site Map
About Us
SOCIAL MEDIA