February 2010
LEAD FEATURE
COMPANY NEWS
MATERIALS NEWS
MACHINERY NEWS
RUBBER JOURNAL ASIA
INJECTION MOULDING ASIA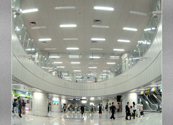 Stations cushioned with foam
The rumbling noise in train stations can be quite disorientating and may even have a detrimental effect on the hearing of commuters. But 25 stations in Seoul, South Korea, that run the Metro Line 9 do not have this problem.

This is because the stations have been insulated with BASF's Basotect to provide a quieter and more comfortable experience for commuters. The sound-absorbing and flame-retardant Basotect was installed behind perforated steel walls in the 25 subway stations.

The lightweight and flexible Basotect stands out for its acoustic properties, thanks to its open-cell and fine foam structure. It also reduces the vibration of the perforated steel walls and provides effective sound absorption in the low frequency ranges as well.

The company also says that the high level of thermal insulation brought about by the low thermal conductivity of Basotect contributes to energy-efficient construction. The foam also meets stringent emission requirements due to its fibre-free properties. Moreover, the inherently flame-retardant Basotect is noted for its ease of processing and installing.

The first 25.5 km section of the Seoul Metro Line 9, from Gimpo Airport to Sinnonhyeon in South-Eastern Seoul, was opened to the public in July 2009. It will later be extended to the east of the capital. The remaining 12 subway stations of line 9 will be installed with Basotect in stages.