February 2010
LEAD FEATURE
COMPANY NEWS
MATERIALS NEWS
MACHINERY NEWS
RUBBER JOURNAL ASIA
INJECTION MOULDING ASIA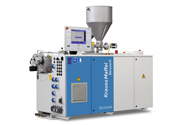 More profiles, at lower speeds
KraussMaffei Berstorff has extended its new range of conical profile extruders, for profile extrusion, with the lower output KMD 43 K/P.

A new update is that the conventional conical screw has been redesigned from the feed to the compression zone, thus improving heat transfer from the barrel heating system in these zones. The result is optimal temperature homogeneity across the PVC powder. The screw's preheating zone is far longer than in the previous series, allowing for a stable process and optimal melt homogeneity.

The optimised drive unit has made it possible to increase output to up to 100 kg/hour, without increasing screw speed. Flexible temperature control and self-regulating internal temperature balancing and hardened screw surfaces make it possible to process a range of materials. The air-cooled barrel and an AC motor in the standard versions help to keep maintenance low, says the company.

Despite the longer processing unit, the KMD 43 K/P is a compact machine and overall length has been reduced slightly. The new design and the flexible positioning of the drive unit make it easy to configure space-saving co-extrusion concepts, such as piggyback concept. The machine comes with the C5 control.